We've all had that feeling of complete bliss and luxury when we walk into a five star bathroom whilst on holiday.
After a long day of traveling or exploring, there's no better feeling than to have the luxury of a waterfall shower, or a Jacuzzi bath to soak the aches away. Whilst the Egyptian cotton towels comfort you into a relaxed state ready for bed, the scented candles help to ignite your senses with memories from the day gone by.
Decadently designed, with every detail thought about, it can become a space that you want to take advantage of during your travels. Opting to have a bath more times than you would at home, just to make the most of the roll top bath.
Not only are hotel bathrooms expertly decorated by well-known interior designers, but they are also spacious enough for you to enjoy the bathroom with company.
But although it's impossible to replicate the space or the picturesque views you can get in a hotel bathroom, there's no reason you can't replicate the feeling of luxury in your own home.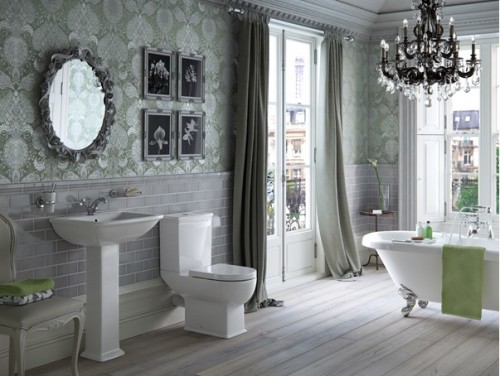 Image Source
Décor
Choosing a suitable colour scheme for your new bathroom, is essential to giving it the style that it needs to evoke hotel decadence.
After all, although you don't have a hotel budget, it needs to feel as though no money has been spared on creating a stunning washroom.
Before you can decide on the colour scheme, understand the layout of your bathroom and where the light and dark areas fall during different parts of the day.
Mapping this out on a piece of paper will help you to understand the areas that you'll need to highlight and the size you have to work with.
Unfortunately it's key that your décor enhances the size of the room, otherwise you could end up with the bathroom feeling overwhelmingly busy. There are a number of guides available for those who need suites for small bathrooms, so do your research and have a look around at the variety available from local bathroom suppliers.
Once you know the size of your bathroom, you can then go in search of hotel bathrooms that are a similar size and take inspiration from them. It's a neat little tricky to ensure that you can make the most of your space, and take a guide from an interior designer without having to pay the fee.
If you're struggling to find suitable images, look on Pinterest or search through interior magazines.
Hotel inspired bathrooms are becoming an increasing trend, so you should be able to create a mood board to draw from before you begin selecting your paint and wallpaper.
Lighting
It's easy to be impressed by the lighting in a hotel bathroom, vibrant and with a warm glow so you can do all your daily routines without feeling like you're fumbling around in the dark.
Spot lights are perfect for creating a 'show-home' feel and can be adapted to dim according to your lighting needs.
As the bathroom is the most common place for make-up application, spot lights can be favoured by many for giving the truest light, so it can be a real show-off piece for visiting guests.
Just don't forget to make space for all of those scented candles that will give your bath time the relaxing atmosphere you need after a hard day at work.
Storage
You'll notice in hotel bathrooms that although they can range from being decadent to minimalist, they never have any products on show unless they're a premium brand.
To keep your bathroom looking as clean and tidy as a hotel, choose your storage wisely and get into the habit of putting things away.
If you want products to be on show, place them as if they were going to be part of a photo opportunity, and ensure they co-ordinate with each other.
Products such as hand wash or soap, should be purchased from premium skincare ranges so that you can truly give a sense of luxury to your bathroom.
Ideally try to make your storage go unnoticed. Whether that's by adding drawers under the sink, or a neat cupboard hidden behind an ornate bathroom mirror.
Accessories
We've all been tempted to run away with the mini hotel products, or the fluffy bath robe that's hanging behind the door, but these are also the small elements that can bring your bathroom together and give it that feeling of complete comfort and luxury.
Mini premium products can be purchased at a fraction of the price, so perhaps stock pile on a few of them to impress any guests that may visit.
Additions such as plants and pictures can also complete the room, and you don't need to spend a fortune on art when you've got so many affordable unique prints available through online markets such as Etsy.
If you don't feel as though you're green fingered enough, there are now many stunning faux plants that look just as good as the real thing.
Once you combine all of these elements into your bathroom you won't want to leave for a holiday, and it will soon become a talking point between your friends and family. Of course the biggest difference it will make to your life, is that it will give you a real sense of calm when you need it most. Just don't forget to put the 'Do Not Disturb' sign on the door when you're next having a soak.