Most of the bathroom remodel projects are dictated by a budget and in that we usually end up spending a lot of time and money in the process of renewing the never-been-updated bathrooms. The list of items that make beautiful bathrooms seems unending too. Accessories, window treatments, bathroom vanities, new paint, floor and wall tiles, lighting, shower curtains, fittings, faucets all have their share of making splendid bathrooms. But many aren't just lucky enough to transform these private places to suit their taste and are kind of letdown to use their out-of-date bathrooms. But there sure are ways to transform your bathroom into a friendly retreat without breaking the bank. Find your perfect option in our pick of some of the best bathroom makeover ideas on a budget.
Use space effectively
Most of the bathrooms lack personality despite looking sleek and stylish as the available space is not used wisely. All bathrooms have toilets, showers, washing machines in addition to the toiletries, cosmetics, medicine cabinets and all these make efficient use of space very complicated. However, with simple ideas and some careful thought, you can transform the place into a beautiful private place. For small bathrooms where space is precious, simple bathroom accessories such as towel bars, bathroom organizers and bathroom shelves can be a lot helpful in letting in all the bathroom essentials.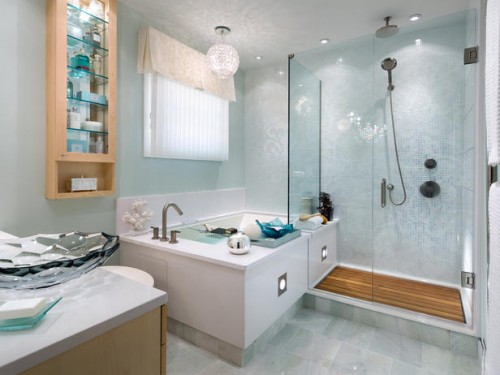 One or more towel bars can be fixed on the inside of the bathroom door to make effective use of space. The inside of the medicine cabinets also have enough place to mount toothbrush cup holders which again saves the place on horizontal shelves. Likewise, bathroom shelves, especially corner shelves, and drawer dividers save a lot of space in the bathrooms and are ideal for storing personal accessories and cleaning supplies. If space is not a constraint, double sink vanities, free standing whirlpool tubs, shower enclosures, multilayer racks and multi-purpose medicine cabinets can be considered for a more dashing look.
Bathroom vanities on a budget
Bathroom vanities not only beautify your bathroom but are also perfect for storage and functionality. While planning to get modern bathroom vanities for the bathroom, consider the space required so that you can decide on getting a single or double sink vanities. As vanities are centerpieces of any bathroom, they are available in different styles and ranges to fit every budget. While shelf vanities cost less and are a great choice for bathrooms short on space, wall mounted and cabinet style vanities may considerably add to the cost of your budget.
Use open storage cabinetry
Most of the bathrooms, whether small or large, do not always utilize the space to the maximum. Spaces above the doorway, under the sink and in the corners are always ignored by many and can be used for storage if planned wisely. In case of bathrooms with higher ceilings, opting for decorative storage shelves can help in storing some extra toiletries and cleaners while giving a whole new look to the bathroom. Additionally, small DIY projects such as installing corner shelves and installing brighter lights help in utilizing available space to the maximum while bringing in a feel of more space.
Remodeling a small bathroom isn't a hard challenge at all. In fact, most of it can be done by ourselves and saves a lot of budget while making the place much better than large bathrooms. Try them out to have a completely changed look without spending a fortune.