From downstairs toilets to en suite bathrooms it can be difficult to find the right formula from both a style and practical perspective to truly make the most of small spaces. These areas are often overlooked as so much emphasis is placed on the main parts of the home, with living rooms and kitchens in particular, being the primary focus of redesign and development. Transforming the rooms which are considered to be less of a priority will not only improve the overall look and practicality of your living space but is almost guaranteed to add value to your home. Planning the layout thoroughly and keeping designs as straightforward as possible is highly advisable when it comes to transforming a small bathroom. The great thing is you can make significant changes without spending a fortune.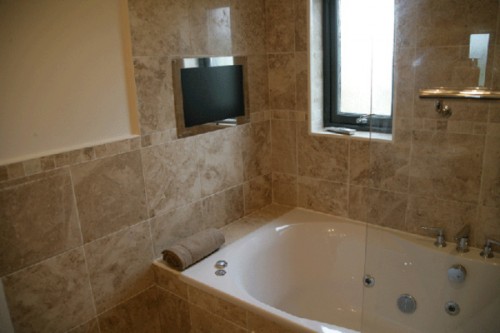 Simplicity is the key to success
Many houses have a small bathroom area on the ground floor, often positioned directly beneath the staircase. It's usually not the largest of spaces so maximising its potential in terms of both design and functionality is important. Our advice would be to keep things simple and go for something which is sleek, contemporary and practical. Don't overcomplicate the design with multiple colours and features as this will only clutter the room. Applications which fit compactly within the space are certainly the best option. A small cupboard beneath the sink can store all the essential cleaning products. Using large format tiles as part of small bathroom decors is highly recommended as it helps to emphasise the available space. Soft neutral colours like white, cream and ivory are the best shades. Furthermore, a polished finish will help to reflect light throughout the room.
Add a decorative style in en suite bathrooms with Mosaics
As part of small en suite bathrooms you can add a decorative feature but once again it's imperative this doesn't overpower the overall design. Mosaics are an excellent choice. They can be used as a splash back and adjoining border to add a touch of class to wall decors. They can also be used on floors, with the multiple grout lines providing a high level of slip resistance. In order to streamline en suite designs and really take advantage of the space at your disposal it is viable to convert them in to a contemporary wet room. There are specialised wet room products on the market which provide a watertight covering with excellent drainage. These can simply be tiled upon, with mosaics the preferred choice for many. A wet room eliminates shower trays and therefore makes the room appear more spacious.
Matching wall and floor designs
Create a seamless transition from wall to floor in your bathroom by matching the style throughout. This really helps to open the design up from a visual perspective, making the interior space appear much bigger. Many homeowners are now choosing travertine tiles for their bathroom design as the neutral shades of beige and cream work incredibly well within this environment. Travertine is a premium natural stone which displays a unique pattern, providing designs with an understated beauty.
Tiles Porcelain has a wide range of Porcelain, Travertine and Mosaic tiles to choose from.
By Andrew Brown