The bathroom is a highly functional space in the home, and can often be overlooked when it comes to creative decorating ideas. Many people are happy to splash out when it comes to decorating their kitchens and living rooms, but forget to focus on the bathroom. Whatever the size of your bathroom, there are plenty of ways to make it an attractive and practical space for washing, dressing and other ablutions.
Using Paint
A coat of paint can quickly transform a dreary room into something special. You don't need to stick to muted or neutral tones, although these are more traditional. If you're not ready to commit to a single bold shade, why not choose one way to feature with a richer or darker colour? You can also use pattered wallpaper to create a feature wall. Flocked papers are a little bit more expensive and often need to be professionally hung, but are definitely worth it in terms of the overall appearance of the room. If you're not interested in changing the wall colour, you could try painting the radiator in a bright shade. This will immediately add interest and can draw the eye away from existing imperfections.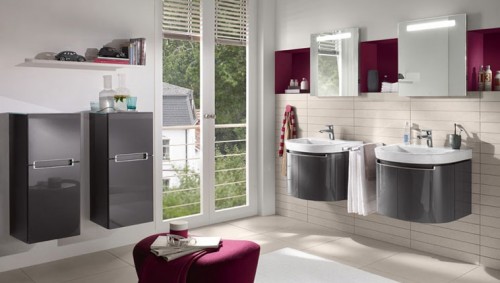 Unusual Storage Solutions
Instead of a towel rack, why not use a stripped down, wooden ladder to hang your fluffy bath and hand towels on? Your washing basked can be anything from a wooden chest, to a wicker hamper and this can be decorated with stencils. You could even get the kids involved with this as a Saturday afternoon project that the whole family can enjoy.
Mirrors and Lighting
Instead of the traditional mirror, why not use the space above the sink as a place for a chalkboard. You can write inspirational or motivating quotes on it, and feel more positive and energized when you read them in the mornings. If you're not willing to splash out on an attractive frame for a bathroom mirror, you can always paint a decorative frame straight on to the wall. It will make your bathroom look unique and interesting, for a fraction of the cost of a frame. Many people like to keep things bright in their bathrooms, and investing in some high quality spotlights from a specialist retailer like Scotlight Direct can really make a difference. Don't hesitate to make the most of natural light too, and if privacy is a concern you can always cover windows in gauzy drapes that allow sunlight to filter through.