The shower enclosures have redefined the central part beautification of a typical bathroom. When you enter a bathroom, the first thing to go through the mind is to take a shower. Years ago, the showers and bathrooms were separated by the curtain area. Today with the styling and technology the shower has its compartment giving it a new look and styling. It allows you options like a steam and the jet spray, which can give you a complete massage, overall a complete spa in your house. Let us check out some of the shower enclosures, which can match your styling.
Frameless shower enclosure with glass
It is the best option, which one can get, as it is flexible. The glass enclosures go well with any styling of your bathroom. The stylized curved design, the classic and elegant look and modern styling of the showers gratify you.
Glass and aluminum shower enclosure
This is unique styling and has aluminium frame with glass panel around. The style of designer tiles behind of the shower and the glass and aluminium fixtures make it a diverse feel and a unique shower enclosure.
Shower enclosure of glass block
It has neat and clean look and is different in styling. It is made from heavy glass blocks in a circular manner, eliminating the door. The pattern of these glasses is of modern styling and gives the washroom a beautiful look. You can opt out for different glass block of different colours and styling.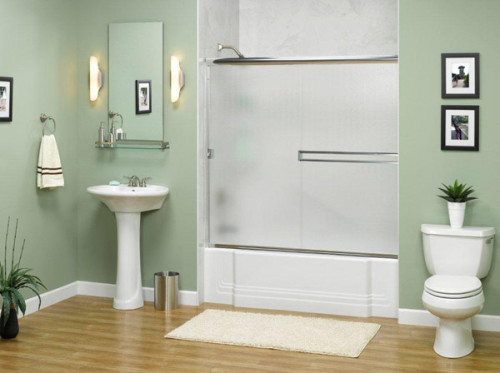 Enclosures with sliding glass
You can try out the sliding door shower enclosure if your bathroom is not spacious. It is space saving and have style and looks to match your washroom. This is a customized fixture, which allows space for other fixtures.
Tub shower enclosure
There are no curtains required, just because you got a tub. There is tempered hinged glass that gives the best ability of both to reach the match and to keep water in the shower. These glasses have a frosted look, which can give some privacy.
Textured enclosure
If you need the privacy with the frosted glass, you can try the textured glass styling. There are various types of textures available in the market. These looks give your bathroom a new styling and a see through effect.
Different entrance shower enclosure
This styling gives you an IN and OUT entrances option. You can get different design option that can give your bathroom the feel you need. The frosted surrounding gives a luxurious atmosphere, and the open enclosure gives you a cool feeling.
Shower with no enclosure
This styling does not require enclosure. The flooring and tiling gives a rich look to the bathroom. It's an open shower with wall separated from the washroom. You will get the feeling of unity.
Framed enclosure
This is framed enclosure to keep the water in the shower and is stylish. You can try the chrome finish for a modern and classic styling. The adjustable panel gives you a good ventilation option.
Glass and tile enclosure
It is a compartment where there have tiled walls with glass windows and doors. This makes the shower stylish and gives you a good space to enjoy your bath. You can design the compartment with choice of tile you need.
With the increase in modern technology, you can customize your bathroom and get yourself with different types of shower enclosures that will suit your bathroom. You can enjoy spa like having treatment at your house.