Bathroom designs for small spaces should be in a way such that the space is both utilized and maximized while the aesthetic appeal is retained. With a number of new and innovative design ideas springing up, the bathrooms are the new focal point, wherein the homeowners are considering luxury despite small spaces.
Rustic bathroom
A small bathroom is appropriate to be given a rustic feel. The space around the bath is covered by untreated planks of timber. To maximize space the bath is fitted at a corner behind the door. A shower curtain completes the look imparting a sophisticated touch to the otherwise rustic make of the bathroom.
Attic bathroom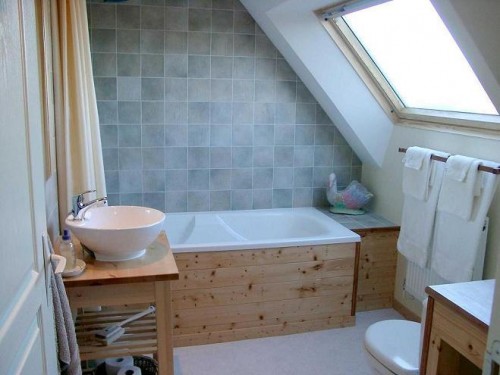 A compact attic bathroom can be lighted up with a huge skylight. Pale colours on the walls make the bathroom look more spacious. With the bathtub tucked in a corner behind the sliding door and pedestal sink standing at a side, the bathroom is complete. Decking up with patterned china pots and accessories accentuate the bathroom while offering a classic touch.
White bathroom
An entire white bathroom fitted with large skylights makes this rustic bathroom snug and cosy. A free standing bath is a good idea and can secure a position just below the window. This small bathroom design can be made to cast traditional effect with the use of traditional taps.
Floral bathroom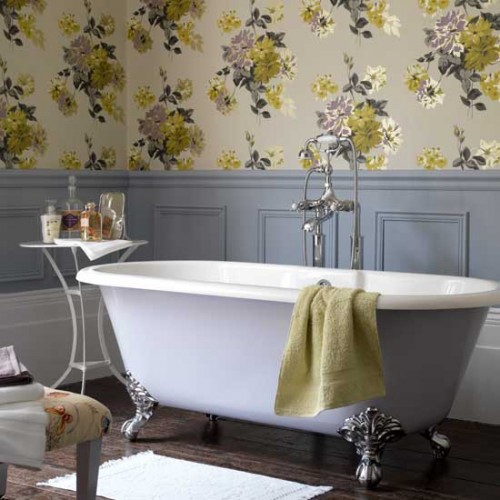 The best way to make bathroom designs for small spaces spacious is by keeping it white. However, the walls can be accentuated using a light floral wall paper. A couple of red items or accessories can be used to land a modern touch to the bathroom. This would complement the wall paper and accentuate the look of the bathroom interior.
Coastal styled bathroom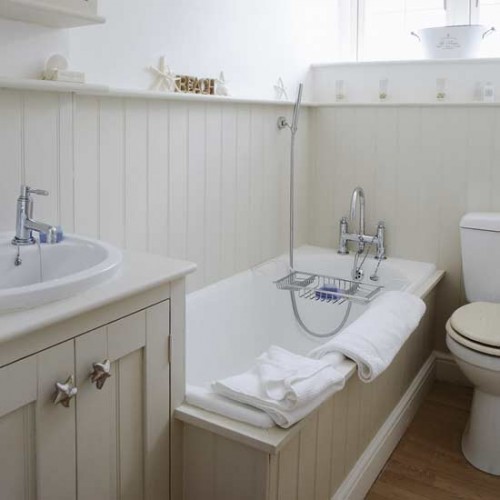 A small bathroom can be turned sophisticated by teaming it with the white walls. The bathtub can be tucked along the corner taking two walls on adjacent sides to maximize space. The top edges of the wooden panelling can be decked up with shells to add an aesthetic appeal specific to a coastal or beach hut, to the bathroom. The closet below the sink is great idea to utilize space and can be fitted with star handles to offer an eccentric feel.
Understated bathroom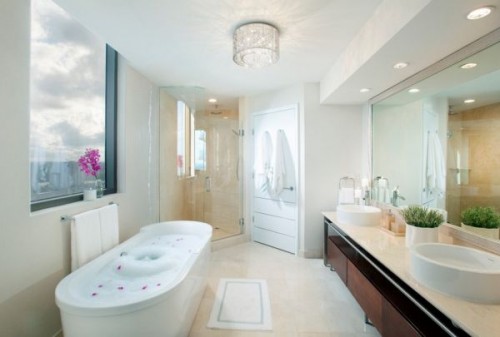 Since space is limited, it is not practicable to include decorative furniture pieces and thus a roll-top bath can be a great bathroom design for small spaces. White walls with pale blue panelling maintain an understated look in the bathroom, the bathroom seems spacious. Small wooden furniture fitting the size of the bathroom can be put in a corner for accentuation.
Small storage for bathrooms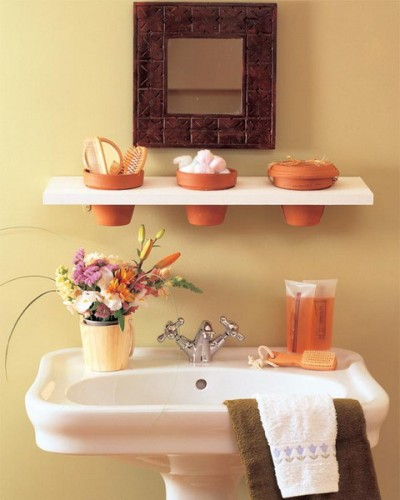 The storage hooks and shelves are hung on the walls to work up space. The soap and face cloths can be kept in the wicker storage basket, while the toiletries and towels are kept in a sleek wire rack. The bath time essentials can are kept in a wooden stand mounted on the wall.