Traditional interior design celebrates classic shapes, unfussy details and simple elegance. Many designers consider it to be the best way in order to develop elegance and order without losing elements of comfort, the welcoming atmosphere and the casual look.
Hallmarks of such design include fine woodwork, carved moldings, finely crafted furniture and graceful lines. Framed wall decorations, elegant fabric curtains, soft accent pillows are some of the features that one often gets to see inside a traditionally styled room.
Furniture styling often consists of Chippendale, Queen Anne and Sheraton. Pieces belonging to the Queen Anne style are elaborately decorated with chair backs shaped like violin, cabriole legs, decorative finials and curved lines. Chippendale style is quite similar to Queen Anne, but provides a far greater artistic embellishment. Whereas the Sheraton pieces are concerned, it is delicate with straight tapered legs that come in contrasting inlays and veneers.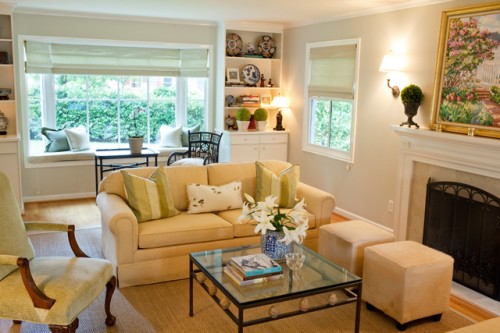 Accessories in this style often include bowls, candle stands and vases which are carved in 18th and 19th century styles. As far as the colors are concerned, walls are painted in cream, ivory or beige. Elements of bold colors can be found in accessories and artwork. It is important to choose the colors according to one's mood and personality. Floors are not that important in this style, but one can choose a hardwood floor and choose covering it up with a rug or a carpet.
Fabrics such as velvet, damask, silk, crewel or chintz are used in this style. Lighting fixtures should be classic and should melt easily with the color theme. Large or average sized accessories are used in this style. These accessories should be in pairs so as to suggest equilibrium, order and balance inside the room.
There lies a little difference with which traditional style, along with modern and transitional approaches the comfort-level. Traditional interior design styling uses accessories and ornament to get that comfort, relaxing and homey feeling inside a room. An exact opposite approach is taken by the modern styling to achieve that. It uses open spaces, basic shapes and clean lines. Lastly, transitional infuses elements from both of these in getting that. It embraces the traditional design's comfort and modern design's stylish looks.
People who connect deeply with the early American, European and Old World history will take a great pleasure in choosing this traditional style.  Traditional interior design will feel satisfying and timeless, if one craves for order and elegance.
Many modern interiors have been influenced by traditional style. One doesn't need to transform their rooms into dark wood walls or antiques so as to enjoy this traditional interior design style.