If you are looking to enhance the appearance of your home and are planning for an interior painting job, these 10 interior painting tips and techniques will help you in getting the desired look. However, you need to follow certain tricks of the trade so that it eases the job and gives the room a pro-job kind of effect.
1. Choosing the right colour
Arguably, this is the hardest part of the paint-job. The most important thing is to find the right colour so as to match the mood and make one happy. If one is confused regarding the colour, then they can pull a colour out of an art-piece or a rug that is inside the room. One can also take a number of paint chips or use a small sample pot to try and figure out the look of the room.
2. Using two colours
If one is planning to use more than one colour, then lighter colour should be used on the top and darker colour at the bottom. Light colours dominate while dark colours provide a grounding effect. It goes same with shades of the same colour. Darker shades give the room a cozy feeling whereas lighter shades helps to create a more airy feeling.
3. Paint effects
One can always try to do something out-of-the-box to give great paint effects on their wall. Techniques such as stenciling, color blocking and color washing could be recommended.
4. Choosing the right finish
It can be of many types, but the popular being flat, satin and eggshell, glossy and semi-gloss. Matte finish is offered by flat finishing while satin and eggshell finish leaves a little shine. Glossy finish creates the same as well.
5. Amount of paint needs to be determined
General rule is that one gallon of paint is required for every 400 sq. ft. The width of the walls needs to be added together, which then can be multiplied with height of one wall. Then the total area taken by the walls, doors and archways should be deducted from it.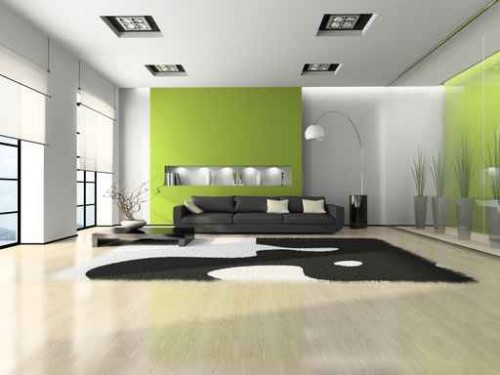 6. Preparation before the paint-job
All the knick-knacks of the room should be removed, along with all the hardware and fixtures. The walls should be wiped down with water and soap solution. It helps in removing grease, dust and dirt. This precaution should be an inclusion to any interior painting tips and techniques list.
7. Using tapes to cover up areas
Though it is a bit time-consuming, it can be quite useful one. Ceilings, doors, windows and trims needs to be tape-off with a painter's tape so that bone doesn't cross-over to an area that don't need to be painted.
8. Panting method
Painting should start from the highest level to the lowest part. This way one can catch those drips, before it ruins a freshly painted section of the wall.
9. Experts endorse thin coats
Getting thin coat by putting a small amount of paint on the roller or brush and using even, long strokes is more effective than using too much paint.
10. Trim should be the last one to be painted
Trim catches some spray of paint that comes off from paint rollers. So, it is ideal to paint the trim last, as this job is done with a brush.