If your dream has always been to create that perfect masculine space to call your own, you've probably considered building a man cave. Here are four steps to guarantee a man cave you and your buddies will enjoy.
Decorating Essentials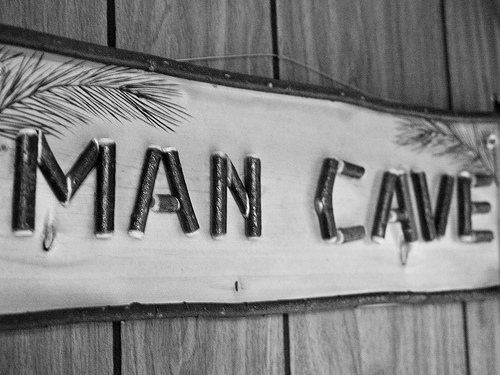 Image via Flickr by the.anomalous
The word "cave" screams dark, hidden or secret. This is why it's essential to develop a decor for your man cave. You may want to paint the room based on your favorite sports team colors. Or, paint the room white, which would be a great background for any posters that you choose to hang.
Because the room's purpose will contain the things you like and a it'll be a place for you and your buddies to hang, you'll also want privacy. Choose blinds that keep the light out and your privacy in. Wooden blinds are a great choice.
Lighting
Think outside the box when choosing lights for your man cave. Search for wall and table top lights shaped like football helmets or those that represent your interests. Or, if your man cave has one theme only, like football or an all pool playing room, find lamps that match the theme.
Must-Have Accessories
A true man cave should contain all the things you like to do most. Some items to consider include:
Portable bar and bar stools – A place for relaxing, chatting about "men" stuff and to keep glasses, mugs, alcohol and mixers.
Keg-o-Rater – Dispense your favorite beer in a snap.
Pool table – Make this man cave staple the centerpiece of the room. Searching the best pool tables that are made in the USA and offer a lifetime warranty is a good choice. There are many different sizes of pool/billiard tables and knowing your measurements can save you money and heartache. Different pool table manufacturers use different width rails, so the industry standard is to measure your playing field. Some people also are convinced they have one size and they really have another.
Dart board – These are available in both traditional and electronic form to play 301, 501 or around the clock.
Large HDTV and surround sound system – Watch the best movies with optimized sound.
Overstuffed sofa – A great place to invite the gang and watch Top Gun or Jurassic Park.
Microwave oven – Even the smaller fare of 800 watts will take care of your popcorn needs.
Refrigerator – Whether you choose the mini variety or a full size refrigerator, these are the best place to keep your favorite perishable snack foods, cheese, meats, dipping sauces, and, of course, sodas and water.
Game console and extra controllers – What's a man cave without a PS3 or Xbox 360 with a wide variety of games (and extra controllers) so the entire gang can play?
Video Gaming Chair – Finding the perfect chair for gaming is a challenging task. Make sure to visit a lot of stores and test out chairs before making a final decision.
Construction Ideas
If a man cave's purpose is to hold everything you love, find videos or instructions for the following on YouTube or DIY project websites:
Bookshelf – Find designs that offer a secret panel to keep your most valued collectibles. Bookshelves are also great for displaying car and sports books, atlases and a variety of board games.
Pool table top – Turn your pool table into a poker table, convert it to a ping-pong table or make the perfect buffet area.
Rugged coffee tables – Check out some great DIY articles on making rugged man cave coffee tables from recycled materials.
Stick to these four steps and your man cave will amaze your friends in no time.