Home interiors are designed and decorated according to the preference of occupants. However, cozy home interiors always welcome and cannot be disliked by any. It is due to their universal acceptance that cozy interior designing is always in the discussion. There are examples that can inspire modification to home to make it cozy.
Creating outdoor escape
Matching sunbrella, round rug and sorted vintage furniture make the sheltered open space a great outdoor escape for winters. A generations-old hooded basket chair with a large table in front is appropriately highlighted in the outdoor escape with light French park chairs.
Exotic yet cozy living rooms
A pair of exotic Chinese vintage paintings should hung over chinoiserie cabinets in another attempt of cozy home interior design. Claret check curtains over floor-ceiling doors tone down the atmosphere, which could have been quite formal otherwise. Italian loveseat in red stripes and sofas facilitate seating while rust & green linen velvet throw pillows create exotic feeling.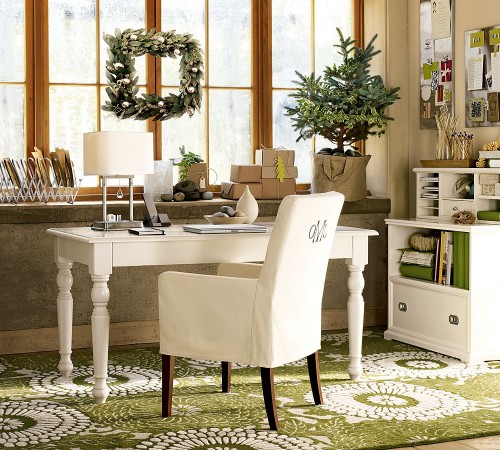 Fabrics in family room
The area between stairs, veranda, dining room and kitchen is decorated with extensive use of fabrics. The mix of strong blue and red prints transforms the area from a hall to a family room. Chenille carpet, lacquered-linen coffee table and ceramic storage casks between the papered walls of the room complete the cozy home interior design.
Fresh master bedroom
Apple green and sky blue has been used in a master bedroom for fresh and a cozy home. Sky blue for bed, absinthe for chaise and grass green has been used for bench. There are also commodes and paintings in the bedroom.
Living room
White upholstered sofas fit right in the living room with glossy durable boat painted floor and white walls. A large painting hung on the wall above the fireplace and showpieces and flowers create the cozy home interior backdrop for the living room.
Mixing old with new
Designer Tom Scheerer did the mix amazingly for one of his clients in the living room farmhouse that belonged to 18th century. Scheerer grouped modern pieces with heirloom antiques of his client to create relaxed and cozy interiors where different styles merge without conflict. Faux tortoiseshell coffee table, a thrift-shop wing chair, a sofa, armchairs and sea grass rug were all in the same living but nothing offended others.
Simple yet glamorous living room
Here, light and airy living rooms have been touched with simple cozy home interior designing to make them glamorous. Creamy or neutral walls with glossy white trims are the best to make the room compatible with different decor. Soft green and blue sofas with zebra print cushions and armchairs flank the space to create antique feel. A subtly patterned or pickled tea table has been used to maintain the compatibility, if the decoration changes in future.