A good kitchen requires a great countertop. There are several ideas for green countertops in your kitchen which not only take care of the environmental aspects but also provide a great look to your kitchen. Implementing these ideas provides alternatives that one can lay their hands on at the time of renovating or building a new kitchen.
Recycled Glass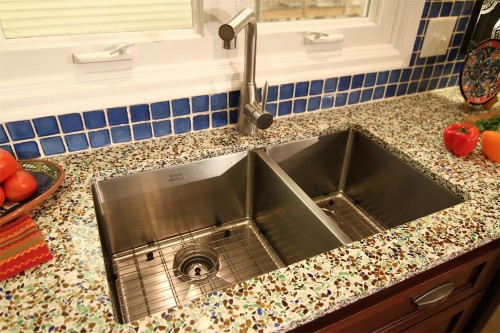 Concrete, cement or resin base is mixed with colourful recycled glass. Counters can be coloured or stained integrally for some added variations and colour coordination so as to match with painted surfaces and cabinetry. Waste stream glasses are used here. Also, the cement gets mixed up with fly ash that would end up otherwise in landfills. This is slightly on the expensive side of the sheet as it starts at $50 per sq ft.
End–Grain Bamboo
These are chopping blocks made from slender end-grain bamboo rectangles, glued into panels. These are available in brown or natural colour. Bamboo has always been a great alternative for wood because of its fast-growing nature, making it more renewable. The off-gassing glues won't be harming indoor air quality. These can be afforded easily when compared with other similar sounding products. Priced at about $22 per sq. ft. they provide some of the most innovative ideas for green countertops in your kitchen.
Recycled Paper
This green countertop product is resin-based and is available in thicknesses between ¼ inch and 2 inches. This can be coloured integrally in many hues. These green countertops feature stain and heat-resistant qualities. Forest Stewardship Council certified post-consumer recycled paper is used at the time of manufacturing these tops, along with formaldehyde-free and non-petroleum resins. Standard woodworking tools can be used in cutting and shaping these tops. Starting at $30 per sq ft, these tops can be quite budget-friendly as well.
Sustainable Wood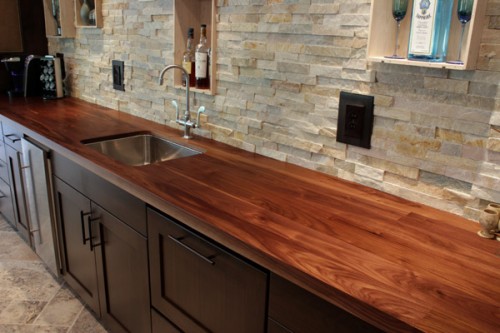 These are butcher block countertops with many of them coming in from recycled or reclaimed lumber, while others from handsome yet lesser-known species harvested sustainably. Using reclaimed wood helps to reduce the need for yielding new trees. It is seen often that recycled lumber shows better quality and tighter grain. Under-utilized species like pacific madrone widen the range of colour and grain choices without compromising with the lumber's quality. The price is on the heavier side, as it starts at $50 sq. ft.
Recycled Aluminium
Recycled aluminium is used by top companies in making countertop pieces that can be up to 3ft in width with built-in backsplash and front lip. Alkemi is a solid recycled surface product that contains post-industrial aluminium scrap in polymeric resin. Only recycled metals are used in manufacturing these products, which then again can be recycled after their useful life gets exhausted. Re-circulated water and reusable abrasives are used at the time of finishing these metal products. Clear-coat finish is non-toxic and food-safe. Its price is very much on the expensive side and can be compared easily with upper-end granite. Prices start from $95 per sq ft.