We're in an age where people are beside themselves over some of the modern blinds products; with motorized solutions, solar shades and top-down bottom-up pulling mechanisms all being prime examples.
It means that some of the more traditional options have gone out the window (pardon the pun) and as you may have gathered from the title, aluminum blinds certainly fall into this category.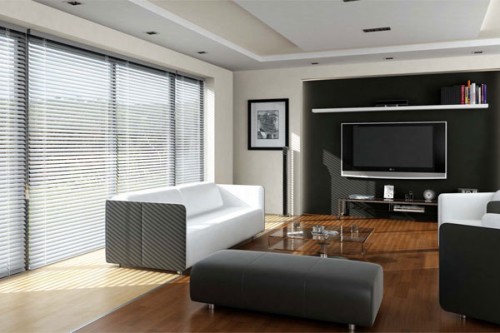 It might not boast solar-repellant qualities, or be constructed from honeycomb cells that can be bought in "triple layers", but aluminum is a material that should not be underestimated in the blinds industry. In an age where the modern family home has children and pets running around, having a durable and easily maintainable window treatment is something that can prove to be an absolute godsend regardless of your social status.
From the durability perspective, one of the reasons they are so hard-wearing is because of their resistance to moisture. This prompts the obvious benefits of them being useful in rooms such as the kitchen and bathroom – but one should also not forget the "spillages" that occur in other rooms. Again, we're referring to that modern family home and with kids racing around, and pets shaking off their day's walk, having a material that can easily be wiped is something that most of us crave on a regular basis.
As well as the accidental spills, we should also point out that aluminum is just perfect in general for basic maintenance. Blinds attract dust, it's one of life's great (or not so great) facts yet again a simple wipe of the material can rescue your window covering from appearing neglected.
One of the biggest drawbacks during the early days of aluminum blinds was the fact that they were "flimsy", and weren't really renowned to last for a long period of time. Now, manufacturers seem to have addressed this, with the slats usually arriving in much bigger sizes from both a thickness and length perspective. The varied sizes can work both ways though and while most of us will appreciate the larger types due to their resistance to general wear-and-tear, blinds which are thinner can serve a purpose such as for those scenarios where they are needed to slot inside a door frame. In other words, these blinds have suddenly become a lot more versatile.
We could talk about the fact that aluminum is a largely recyclable material, and the fact that it is much cheaper than a lot of the more recent products to hit the market. There are countless advantages to this material, although it goes without saying that it's still not going to be suitable for everyone.
Some will raise eyebrows at its appearance, while others will not be interested due to the way the slats can "clatter" around and make undue noise. Nevertheless, this isn't the cheap and nasty option that it was once seen as. If you are looking to boost your home's window's appeal, aluminum blinds could be right up your street.