Top romantic style interior design ideas bring together a style of living that appeal to senses through floral patterns, soft fabrics, painted furniture, lace, aromatic floral, pastel colour palette and more. Romantic rooms can feel dreamy, vague or faraway and at times can even feel impracticable as well.
Arranging a single bloom
A flower such as magnolia does not require any other adornments. The flower looks stunning without any kind of "external" help, floating in a Limoges bowl. This romantic style interior design idea has been a favourite of many interior designers over the years.
Trying a little toile
Dining rooms these days feature Louis XV chairs that are upholstered in Louisiana Purchase toile. Interior designers prefer this style because each of the chairs depicts a unique iconic imagery. Popular among these are St. Louis Cathedral, flatboats, and plantations.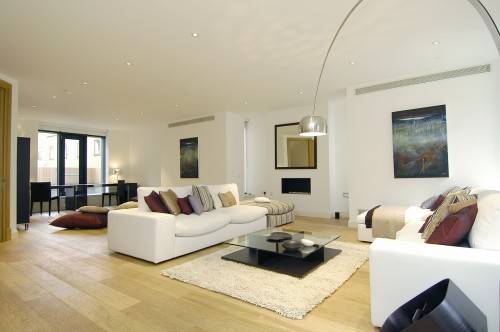 Installing soft, sparkling lighting
Nowadays, interior designers are aiming for a romantic glow inside the living room. One such designer is Gary McBournie whose romantic style interior design ideas are one of the most sought-after in the design circuit. McBournie mounted crystal sconces on the pilasters between doors, to add a touch of sparkle. Walker Zabriskie's glass gourd lamp has been chosen for the Venetian silveriness.
Embellish a mirror
In one of his assignments, a romantic solution was provided by McBournie in an elegant guest bedroom which featured a small Italian gesso mirror. He simply added a sash in order to aid the scale.
Bringing the outdoors inside
To achieve that cosy garden feel, designer Hal Williamson hung life- like banana leaves in one of his client's kitchen. This romantic style interior design idea not only helps in adding a drama inside the kitchen but a continuity of the real banana leaves together with the courtyard just outside the kitchen doors.
A subtle pink
Designer Sally Markham says that women feel a lot more comfortable and at ease in these colours, thereby helping in to increase the romantic feeling. Actually, there's an old decorator's technique of lining up lampshades in pink simply because it helps in creating a glow which is very much complimentary to that of the skin. Markham used a mink throw from Ralph Lauren and draped it all over a silk- upholstered bed.
The romance with blue
Hal Williamson made a sudden discovery when she was pulling out purple, lavender, cream, aqua and blue embroidered silk for a duvet. Williamson noticed that the client was running short of breath as she was so much excited. The designer considers it to be one of those beautiful rare finds.
Remembering the closet
Designer Erin Valencich hung a Cole & Son black and white graphic wallpaper on the closet's back wall. Other than that, the entire wall is in ice blue. As closet walls are generally covered, the ideal spot to make a statement is the ceiling. The designer hung a black glass chandelier and added decorative moldings.