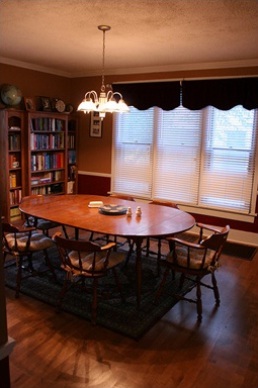 There's no doubt that your personality has a huge effect on your tastes. The Times of India recently reported that the way you dress and the home environment in which you live reflect not just your personality, but also your social standing.
From ambition to creativity, it's easy to work out parts of a person's attitude to life by looking at their home. Neatly stacked bookshelves in the living room can show a curious mind, while a fully stocked kitchen can indicate a love for creation.
But as much as the living room, kitchen, and bedroom help determine a personality, it's the dining room that can have a major impact. From tables and chairs to dining room mirrors, read on to learn what your dining room says about you.
1. Sleek and modern
Dark colours, sharp corners, and cutting-edge technology are all signs of the highly ambitious, ultra-motivated type. Sleek and modern dining rooms tend to use ultra-modern furniture and relatively minimalistic layouts.
Why so minimalistic? Because most owners of sleek and modern dining rooms have little time to sit down for dinner. Motivated and ambitious, these people are type-A personalities with more time for action than relaxation.
2. Plush and luxurious
A beautiful wooden table, comfortable chairs, and high-end cutlery are all signs of someone who's made it in life. While sleek and modern might be the perfect choice for an up-and-comer, plush and luxurious is the choice of someone already there.
This dining room design choice is easy to get wrong – without the budget, plush and luxurious comes off as cheap and kitsch. For those with the assets to do it properly, a plush and luxurious dining room is very hard to beat.
3. Soothing and natural
Earth tones, natural wood, and delicious home cooking make a soothing and natural dining room feel just like home. People with natural wooden dining tables tend to be relaxed and easygoing, caring less about social status than about enjoying life.
While plush and luxurious is the choice of the bon vivant and sleek and modern the choice of an ambitious up-and-comer, soothing and natural interior design tends to indicate that someone's already comfortable and content with their lifestyle.
4. Classic and old fashioned
A mahogany dining table, beautiful crafted chairs, and a glass of scotch beside each and every guest. This is the environment of the classic gentleman or lady – a dining room built for comfort, class, and elegance.
People with classic, old-fashioned dining rooms tend to live the traditional life, full of entertaining lunches and family time. While the sleek and modern dining room's after-dinner choice is a vodka martini, this dining room selects a classic red wine.
5. Cluttered and cosy
A wine-stained tablecloth, crowded liquor cabinet, and full bookshelves are all signs of the cluttered and cosy dining room. Owners of these dining rooms tend to be just as cluttered as their dining space – full of great, albeit disorganised, ideas.
Just like owners of sleek and modern dining rooms tend to be ambitious and owners of luxurious dining rooms are already at the top, owners of cluttered dining rooms tend to be creative, chaotic, and interesting people – often in a very good way.