Those who wish to incorporate modern club interior design ideas to their nightclub must opt for the themes that complement the club space and help to stay within the budget while offering a trendy and fascinating look to the place. Listed here are some of the ideas for having a classy interior design of a modern club.
Jungle Theme
The club's interior space can be provided with an exotic environment by incorporating a jungle theme. Stencils and special light machines can project various images like zebra, leopard or cheetah animal prints on walls of the club and bring added attention towards faux fur or suede furniture chosen for the club. One can also choose bar tools, tables and chaises which include animal print. If the elements are black, tan or brown in color then sudden color pops like tropical flower arrangement or elaborate paint in vivid shades of yellow, purple or pink or bright green can definitely add to the exotic look of the place.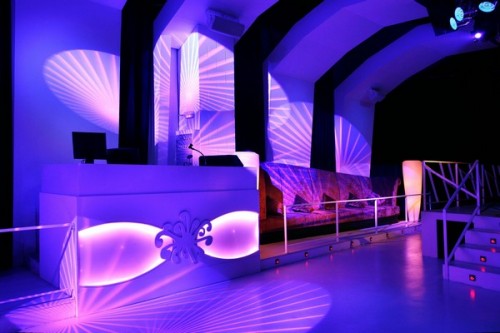 Modern Chic Theme
The interior club design can be offered a nice chic look by selecting lighting and furniture pieces which immediately stand out, leaving lots of room where people can relax or even show their dance moves on the floor made of top quality medium or dark brown wood. The club can be provided with a well-known fixture like a chaise or over-sized chair where people can take pictures along with the inclusion of bar counters or tables made of marble or glass. These are just the elements which offer the club with a feel of sophistication without being opulent.
Colour Coordinated Theme
Those who have a specific color pairing or color in their mind can definitely use this theme for marketing the location. The interior club design can be offered a black & white theme through painting the walls with black & white designs. The furniture included should also be chosen with the same color. Doors, table tops and bar counters can boast of a granite or grey marble design for some added texture. Those who prefer shades of purple or pink can create an interior space with different variations of same hue offering the place with an eclectic and uniform look.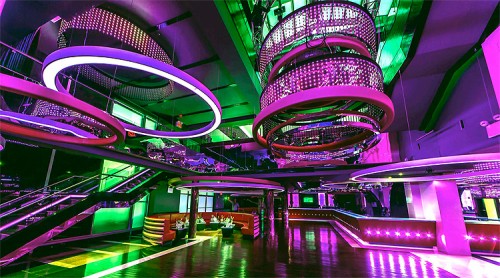 Asian Theme
People visiting the club can be given the feel of a vacation in Asia by decorating the interior space with bright colors like red representing happiness, luck and money in Asian cultures. An extravagant look can be incorporated by using the silver color for wall paneling denoting romance and wealth in Asian traditions. Apart from that, one can also include water walls or decorative water fountains which can serve as eye-catchers for those visiting the place.
These are few of the modern club interior design ideas that are easy to maintain, low cost and certainly adds a feeling of romance, sophistication and elegancy to the overall atmosphere of the place.