If you have an idea about the 10 ways to design a luxe room for less,then you can fetch amazing results in the décor of your room without having to spend a dime. It is not important to spend a lot of money in adding elegance and style to the interiors of your house. You can always use your creative side in delivering some wonderful results by making small changes in the look and the décor of your room. You can either shift your old furniture to a different room or else you can use your old furniture is a fresh way. This will help you in saving a lot of money.
1. Crown molding
Lack of specification in tying the ceiling and the walls together renders a space a completely cheapened and unfinished appearance. Crown molding is something that is very important for any space in your house. Walls with crown molding require very less to be spent in providing richness to wall space.
2. Paint
Making the choice of color that best suits your room is a difficult decision to make. If you are looking to create a luxurious appeal in your room by spending less on paint, then you can go for high pigment or crisp white paint in neutral hues. Such paint will offer great affluence and sophistication to your room.
3. Window treatments
There are endless options available in affordable window treatments for your room. Try spending reasonably on the best quality window treatment that would suit your pocket. Try avoiding unlined and flimsy curtains because they tend to possess poor quality.
4. Pillows
Get in throw pillows for your loveseat, oversized chair or sofa because such pillows work as luxurious accessories. Pillows brought from a store are not quite appealing and they appear cheap and unoriginal creating a non-impactful energy in your room.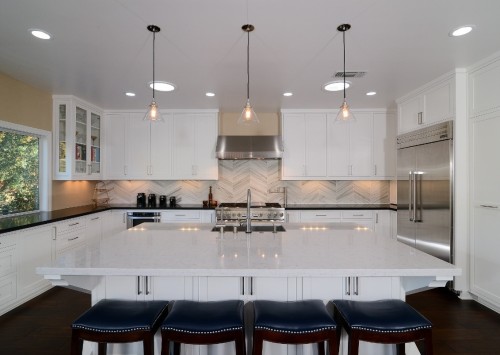 5. Hardwood
The wall-to-wall carpets used in a room are warm and soft but they do not create a luxurious look in your room. You can always go for hardwood that renders a classic and visual appeal. Hardwood can be a little expensive, but will a little bit of research you can find affordable hardwood that can last for a very long time.
6. Hardware finishes
Most regional homes feature very standard and beautiful hardware finishes. These finishes are generally affordable in cost as well as in appearance. You can use hardware finishes in a more modernized form to accentuate the look of your room and do not go for the normal ones used by your neighbor.
7. Accessories
In order to get a lavish look for their rooms people tend to go for gold baubles, brass lighting and gilded frames. Gold is a color that can be very hard for the eyes and it gives a tacky look to your room. Instead, you can go for brushed nickel, silver and chrome as they are easier for the eyes and they also render a completely polished appearance.
8. Lighting
Lighting is yet another builder accessory that tends to lack character, style and personality. Try replacing nondescript ceiling fans and chandeliers with unique and designer looks. You can use the second-hand stores to get designer lighting accessories and do not have to spend a lot of money on the delicate pieces of lighting.
9. Housekeeping
The least expensive and easiest method of making a house look polished and luxurious is by keeping it neat and tidy. Vacuum and dust your rooms weekly. Try avoiding clutter and you will find your rooms shining.
10. Furniture
In the case of furniture, try shopping from second-hand stores where you will get hold of well-constructed pieces of furniture at a very affordable price. Try using these10 ways to design a luxe room for less and you will get a polished room.