Contemporary interior design style was considered minimalist and cold, but these days this style is considered welcoming and comfortable. It is a very simple style embracing some modern approaches to trend and avoids all kinds of clutters. Fundamentally, it is a style that focuses on clean lines, subtle textures and sophistication. Shape, space and color are fresh and sleek with minimum décor that is quite relaxing. This is basically a style for the people who want to keep current with the latest trends. It is a style perfect for stores, lofts, homes and offices.
Color
The main colors used in contemporary style interiors include white, black and neutrals though the accents of bold and bright colors are used for adding dimension. Black is the most important color used for grounding and defining a room in contemporary style. The walls are painted in basic neutrals in an excellent background of accessories in bold colors. On the contrary, the trims need to be neutral if the windows and the walls are painted in pastel color. Another noteworthy point is the use of bold color and neutrals if the walls are painted bright.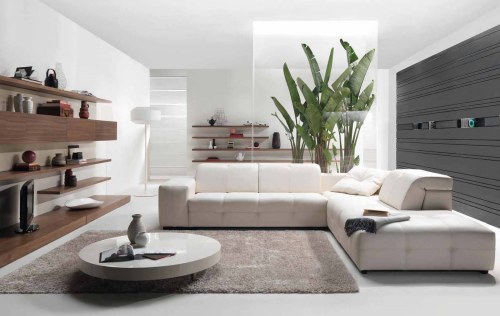 Space and line
The most distinctive and obvious element of an interior design in a contemporary style is line. In this style the bare space, between furniture pieces, on walls and in upper areas are as important as the areas filled with different objects. Less is considered to be more in contemporary interiors. Each and every piece used stands out as unique and individual. Structural elements are completely utilized in this style of interior designing. Air ducts can hang from the ceiling, exposed plumbing pipes are ideally acceptable and broken bricks render stability and texture. The structural details are generally painted in contrasting and bold colors to draw attention.
Furniture in contemporary style
Clean and smooth geometric shapes are important for furniture in a contemporary style. Upholstered furniture in neutral colors or in white and black tones is used in textured and natural fibers. The fabrics generally have a very natural look as is found in cotton, linen, jute, wool and silk adding textural appeal. The furniture pieces used are uncluttered and simple without any sort of decoration or curves. Ottomans, sofas and chairs possess exposed legs. Chairs and beds do not have trim, skirt, tassels or fringe. Make sure to use accessories and furniture for making bold statements in this type of interior designing. Never use excessive carved details, floral prints and ruffles. Abolish small and cute.
Floors
Floors in contemporary style interior design need to be smooth and bare in tile, vinyl or wood. Commercial grade carpets should be chosen for warmth and sound control. Add texture and color with geometric or plain, patterned rugs.
Walls
When going with the contemporary style of interior designing, try staying away from the busy walls portraying fussy wallpaper. Walls should be kept basic; they should be painted flat with fabulous artwork. Contemporary interior design style ideas are evolving continuously and therefore it is now easier for the homeowners to make use of different options.