Individuals should always have an idea about the ways that they can use in making their bed neatly because a bed that is neatly made helps in staring the day on a good note and it also helps in feeling more organized and clear headed. Making the bed neatly not just means arranging the sheet and adorning the bed with a number of items but there is some kind of a special dedication required in making a bed neatly.
A bed that is made neatly makes a person feel comfortable and relaxed for a good sleep in order to start the next day in a fresh way. It helps in providing that peace of mind which is considered to be very important for success in life. Some of the ways in which a bed can be neatly made have been enumerated below.
Completely tucked
All pillows, bedding and anything that lies on the bed should be removed first. A clean bed sheet that fits the size of the bed should be taken and arranged on the entire bed. The corners of the bed should be fitted with the bed sheet taking one corner of the bed at a time. It is actually the corner of the mattress where the bed sheet is required to be tucked in. all the corners should be tucked in properly and any wrinkles on the bed should be smoothened out.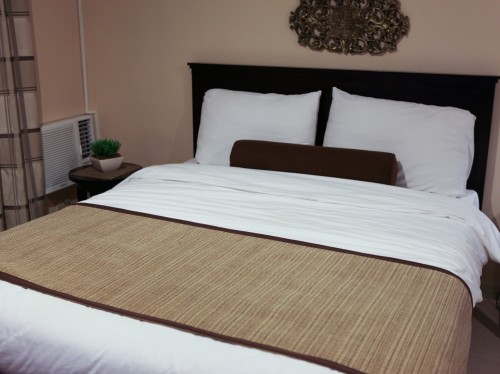 Complete roll down
A comforter is something that is used by people who like to cling to something and then have a good sleep on their bed. If using the comforter along with the pillows turns out to be very hot, it would be a good idea to roll down the comforter until the border of the bed. This helps in exposing the beautiful bed sheet and also helps in creating an enjoyable band towards the end of the bed. This look is considered to be very casual and simple but tailored. This type of bed is very easy to be made and at the same time it is also very easy to unmake this style by climbing into it.
Tucked band
This type of style that is used in making a bed is very similar to roll down style of making a bed neatly but it has to be noted that the tucked band style of making a bed is far more tailored. The tucked band style of bed making can only be achieved with accent textile. A good textile is very important to be used in this style of making a bed neatly and this can be done by choosing a good fabric from the store.
Full coverage
This is considered to be the easiest method of bed making where the comforter is required to be taken up and then tucked in at the front border of pillows that are used on the bed. However it has to be made sure that the entire bed is made up straight and all the wrinkles are smoothened. This type of bed making requires furniture that is well-coordinated with the bedding, accessories and jazzy bedding which is the most important part of this type of bed making.
Tucked and tight
Tucked and tight bed making is for beds that have very strong bed frames. Tucked and tight way of making a bed neatly is considered to fetch a much tailored look to the bed. In this style the blanket or the comforter is required to be tucked inside the blanket and decorative pillows are required to be used for providing layer and texture to the bed. These are the simple ways to make up a bed neatly and they can make for very good beds.