Arranging things in a compact bedroom can quite be a challenging task. But it is not out of bounds. You can use clever tactics and ideas on decorating your small bedrooms and still make them appear spacious. Here are a few ideas on typical lines.
Mirrors play the magic
When you have smaller bedrooms, you can add space and depth by mounting quite a lot of mirrors. Mirrors add space to the room and make your bedrooms appear spacious. Using mirrors add depth and dimension to smaller rooms as they act as additional windows. Hanging several smaller mirrors add to the visual interest while one large mirror hung in the center of the room adds an extra square footage.
Under-the-bed storage
You might have huge baskets filled with miscellaneous items or stacks of books. Why not place them under the bed? This avoids things being cluttered on the floor. And the room looks more spacious.
Smart wardrobe in your small bedroom
When you have more clothes than what you can manage in a small bedroom, there is no need to be ruffled on the same. Your anxiety of not being able to place a free standing cupboard is well understood. You can then consider installing a built in dresser. You can hire a professional carpenter who charges anywhere between $25 and $35 per hour in order to get the job done. You can stack all your clothes in the built in dresser. And the room looks tidy.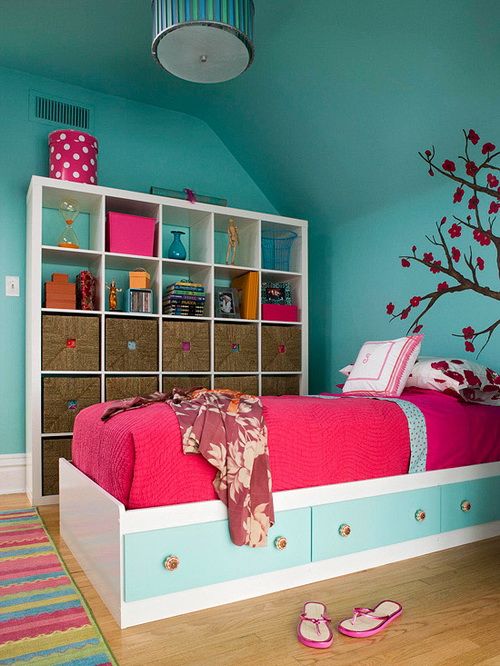 Lighting effect
You can choose frosted lamps and lower wattage bulbs to lighten up the bedroom. Light emits in all directions and makes the room look bigger and spacious.
Use a subtle array of colours to decorate the bedroom
When you use stronger shades of orange or dark pink, the room looks eerier and smaller. Use subtle shades of white, blue and light brown to make the space look roomier. Lighter shades reflect light and the transparency adds more space to your living room or bedroom.
Double duty work desk
To add to the storage capacity of your small bedrooms, you can think of adding a work desk with a chair put up. The work desk acts as an oversized night stand and thereby creates an illusion of a bigger bedroom.
Making use of verticals in a smart way
Making the best use of a vertical space available in your bedroom is an excellent way to keep things neat and organized. Floating shelves can be used to stack up a variety of books and magazines. Small buckets and baskets on mountable stands pave way for storing small trinkets and other miscellaneous items.
The idea behind using cane baskets
Cane baskets can be used not for storing fruits and vegetables alone. They can be used for a different purpose as well. To add more space to your small room, you can insert two huge cane baskets and stuff your novels and story books into them. Another plus point is these baskets complement virtually any design style. You can have fun choosing baskets that are just right for you.
Whooping window treatments
Create an illusionary effect of a taller room by hanging in curtains at a higher space. You can hang curtains on rods reaching the ceiling and hang long curtains that stretch all the way down the floor. You can make the windows look larger by hanging a rod that is much wider than the window. Then, arrange curtains so they cover just a small bit of the window frame and a large portion of the wall on either side.
Double duty sofa set
In order to accommodate more guests in your small bedroom, you can install a customized in built sofa cum bed. The sofa can be rolled into a bed to accommodate two in order to sleep during the nights while guests can be seated on the sofa during the day. The bed can accommodate two to sleep on. These trendy tips for storage in small bedrooms are great for you to live life larger.