A bedroom is a place of solitude where we can relax comfortably after a hard day's work. Bedroom interiors should be designed and maintained in such a way that they nurture both the body and soul in the best way possible.
Bedroom is the place where we get rest and are able to escape from the busy city life. The fact that people have rest and sleep in peace in the bedroom makes it the most important room in a home. While designing the bedroom interiors, all the important aspects should be kept in mind to create an atmosphere that is conducive for rest. The windows and doors should be good in quality and must improve the looks of the room. Taking the help of interior designers to design a good looking bedroom is always a nice idea. The designers can suggest ways that can get you good-looking rooms at affordable rates.
Though the interior designers take time to plan the best design for the room but one can expect to get quality designs that will surely make the room great. One should try to create designs that match well with other rooms in the home. If the design is different from other parts of the home then it looks odd and damages the look of the home. Bedroom interiors are not easy to design and while hiring the interior designers, one should ensure that they are good in designing all the areas of the home.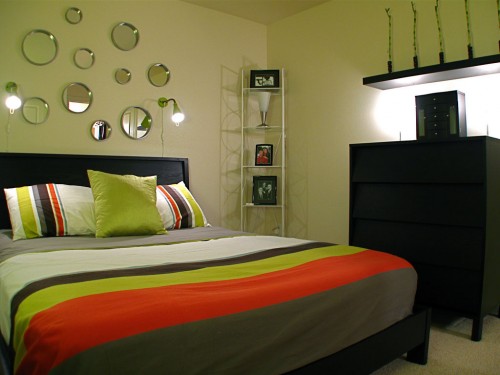 The kind of furniture people choose is also very important while designing the interiors of bedroom. The arrangement of furniture should be done in such a way that there is enough space for people and the room should not look cluttered. Rest and relaxation are the two most important aspects of designing the bedroom interiors. One should make sure that he selects a bed according to the size of the bedroom. The bed should be good in quality, luxurious, and should be able to evoke feelings of calmness. Selection of colour is also an integral part whether it is the colour of the bedding or the colour of the bedroom.
Small fixtures and designs can help in making the place look nice and increase its beauty. The decors and other small elements should be placed carefully so that the place does not lose its beauty. Even the smallest things can change the look of whole place and destroy all the hard work. There are various accessories available for walls, window, headboard, etc. Modern bedrooms are very sophisticated and are designed with various shades of colours.
The pattern of mixing colours and painting them on the walls has become common. Huge numbers of homes use this designing technique and try to make the room look unique. Using sophisticated materials in the designing of the bedroom interiors can help in improving the look of the room and increase the comfort level of the bedroom.