Summer is officially here and there's nothing better than integrating the season into your home decor, starting with the bedroom. Creating a fresh, bright atmosphere makes it easier to drag yourself out of bed for that 6am start, and on a sunny weekend morning there's nothing better than cosying up with a good book in a light and airy space. Simple touches like adding some fresh flowers, investing in some plush, white bed linen and pushing the windows open to let in some air will leave you feeling uplifted and happier!
Fresh flowers from the local supermarket will do just fine, but when it comes to choosing bedding, quality linen makes all the difference, and it's not just psychological!  It may not have crossed your mind before, but cotton bed linen actually allows the skin to breathe, meaning on those warm summer nights it's possible to sleep comfortably without throwing off that beautiful new duvet.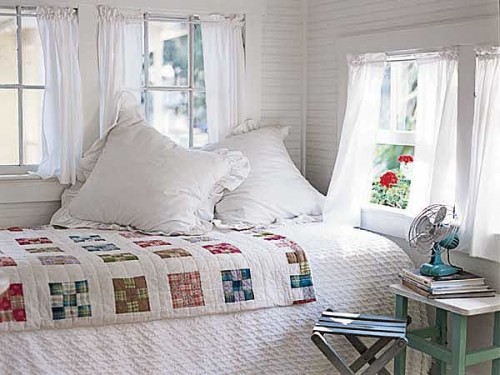 White bed linen certainly doesn't belong on the floor! If updating your bedroom for the summer months, go for a 400 count fabric for a light, almost silky linen; it's the perfect first step towards getting your bedroom summer-ready. If all-white bedding is a little too stark for your liking, then the Elysha Charles Sleep Emporium Boutique Linens offer patterns including everything from stripes to jacquard designs, meaning you can inject a bit of summer into your bedroom without compromising your own interior style.
Switch heavy, dark curtains for light, bright fabrics that will let the sunlight to creep in on summer mornings, allowing you to wake up naturally and face the day feeling a little less bleary-eyed! White bed linen and curtains make the perfect pairing for a fresher feeling bedroom in the warmer months. As for the flowers, go for a sunny, summery colour that will stand out against the crisp, white fabrics. Daffodils are perfect, as yellow looks beautiful set against a simpler colour palette, but if you prefer, bright pink or orange would look equally as stylish.
Neon accents are a huge trend in home decor at the moment, as you'll know if you're a homeware Pinterest addict! Photo frames and trinkets in pastel neon shades will contrast amazingly with crisp, white linen, and if you're a hayfever sufferer, they'll work just as well as the flowers at injecting a bit of colour into the room.