People often tend to overlook their bedrooms while adopting a greener approach which is the reason why these ways to green your bedroom are provided. They will ensure that you maintain a healthy atmosphere in an environment friendly way.
Focussing on comfort
The best way to get a good sleep at night is to find the appropriate bedding and mattresses so as to suit the requirements. It is always a good idea to opt for eco-friendly foam mattresses or traditional box-spring with natural wool topping. Both these are made without fireproof or plastic materials which release VOCs. People can also invest in organic pillows and sheets so as to keep themselves comfortable, cool and allergy-free.
Improved air quality
Long hours are spent by people breathing the air within their bedrooms which means that air inside the house and bedrooms should be clean and fresh all the time. The inclusion of an air purifier within the bedroom is considered to add towards greener bedroom ideas as it helps in removal of harmful chemicals like smoke and VOCs along with allergens which stuff up the nose and disrupt sleep.
VOCs within the bedroom can also be prevented by selecting natural furniture and carpeting manufactured without nasty synthetic chemicals commonly found in plastic fibers, carpet glue or compressed wood.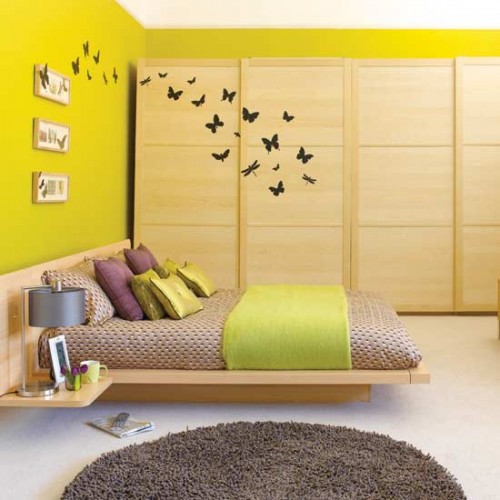 Go green
Selecting the right bed no doubt proves expensive and consumes a lot of time which is the reason why people need to make sure that it is done in the right way. It is better to search for FSC certified wooden frames as they are products of sustainable managed forests. Along with that, people should also focus on finding frames manufactured without VOC releasing polishes and paints. Sustainability can also be achieved through proper disposal of old mattresses as they tend to occupy huge space within landfills. The mattresses can be offered to companies which recycle them or places accepting donations.
Soothing aroma
People can include aromatherapy sprays and candles which make use of soothing herbs like chamomile and lavender within the bedroom. Apart from putting the mind at ease these materials help to keep the bedroom greener and feel fresher. It is important to search for air fresheners that are totally natural and do not release phthalates or VOCs.
Clean green
The best way to clean the bedroom is to use safe, natural and green cleaning products. Natural wood polishes and carpet shampoos are easily available which help in keeping the harmful elements out of air and also provide a perfect clean without causing any adverse effects to the people staying in the home. These substances are also good for the environment.
The above ways to green your bedroom ensure that you, as a homeowner, can enjoy the fresh feeling and clean air within the house while maintaining a healthy lifestyle.