Looking for the ways on how to build a simple wood truss? First of all, you should know the purpose of building a truss. Trusses are generally used for building a structured roof system in buildings. This is often done in simple structures such as storage buildings, small sheds and other buildings that are not governed by particular engineering building codes or requirements. You can build your very own truss with the use of wood by following some of the steps that have been detailed here.
Determining if a homemade truss is perfect for your project
Your truss should not infringe local structure or building codes because it is meant to provide a good support to the roof of your structure or your building. Therefore, the truss should be designed specifically to meet snow load, wind load and various other structural obligations.
Designing your truss
It is important for you to have an idea about the basic design elements required for building your truss that would work with your project.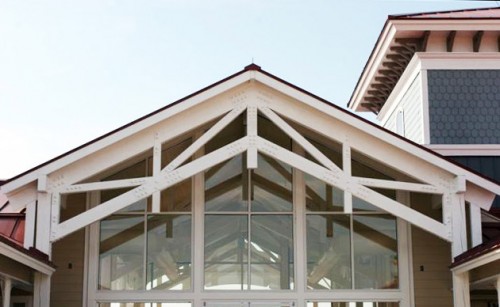 Selecting quality wood for your truss
When starting to build you truss the first thing that you should consider is making the choice of good quality, simple wood for your truss. Choose high density softwoods such as fir or southern yellow pine over white pine, lodge pole pine and spruce. Other things that you should look out for when selecting wood include size, quality and straightness of wood. Wood used for making a truss should be seasoned or kiln dried because green wood might warp or shrink after the truss is assembled and then installed.
Get a stable workplace for building your truss
Try drawing out a truss in full size on the floor so that you can get an idea about the length of angles and members of different cuts required. In case you are not able to do this then try using a chord board or sawhorse to make pattern pieces.
Marking the top cuts
Mark the top cuts on top chords meeting at roof peak. You can determine the angle of this particular cut by making use of a speed square, but it is important for you to have an idea about the roof pitch. Try marking a rafter pitch on every top chord or make use of a string from making a mark from the central point of the chord bottom perpendicular to the member across tow top chords where both overlap each other.
Locating the position of bracing members
The bracing members required for the completion of the truss have to be located according to their position. This determination can be done by the use of online resources and precise engineering guidelines. Next the length of the bottom chord should be divided by three and the resulting distance along the chord has to be measured.
Determine whether toe nailing is required
This is a very important step where you need to decide on the toe nailing of each member in order to make your truss strong enough. Gang-nailers, gussets and reinforcing plates need to be used for all connecting points of frame members. Nail every member of the truss together, supporting the truss at intersections with the use of posts or boards in order to keep the entire assembly flat. This way you create a number of trusses using the first assembled truss as a template. The final step is to install the trusses on the structure that you are working. These are the steps that you need to follow if you wonder how to build a simple wood truss.