For a perfect window, lace curtains are emerging to be the ideal alternative these days. Apart from interior decoration, they serve other purposes like blocking sunlight and maintaining your privacy. But due to wrong selection, it might fail to light up the interior decor of your house. Here are some of the factors that can help in selecting lace curtains for your home.
Size and Light
Before buying an appropriate curtain, it is important that you have a prior knowledge about the extent of light penetration inside your room. At the same time, you must measure the actual size of the window where you are planning to install the curtain. If you want unhindered light penetration then you can opt for white lace curtains. Otherwise you can buy these curtains with the combination of perfect lining.
Materials
These curtains are available in various types of fabrics like polyester and cotton. You can further increase your purchasing options if you go for machine-made or hand-woven curtains as these are closely linked with coarseness and fineness. Though these details are not so important initially, but they should be taken into consideration before selecting them for your windows. You need to make sure that the colors of your newly purchased curtain do not fade easily and that can only be possible when it is made of superior quality fabrics.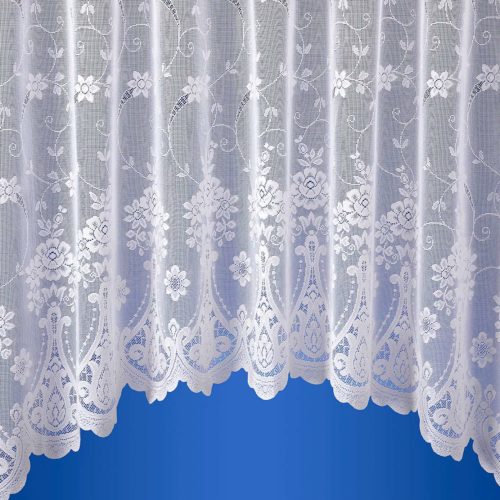 Location
The location of your room plays an important role when it comes to selecting the right type of lace curtain. So before spending money on these curtains, first select the place where you are planning to fix it. When selecting the curtains for your bed, it is better to opt for the thick ones that effectively guard your privacy. But if it is for your living room, then light colored curtain is good enough.
Curtain Style
When it comes to determining the design of lace curtains, you do not have to entirely rely on weaving and fabric. It is simply because there are already a vast number of readymade designs that are available. It is also true in case of lace curtains and hence before buying it, just have a thorough look at your room environment. If you want to infuse modern or vintage look for your house then go for the one that best suits your purpose.
These are the basic guidelines that can come in handy for selecting the appropriate lace curtains for your household needs. Apart from these basics, you can determine your purchasing priority on the basis of other criteria as well. The above mentioned guidelines are just a glimpse of basic purchasing priorities of average people. You can use different online platforms to get more information regarding how to select lace curtains for your home. Whatever selection criteria you adopt, just make sure that are within your budget range. There is no need to be extravagant as you are purchasing curtain to fulfill your overall requirements including home decoration.