Anyone who lives in an old home knows their beauty is exceeded by the number issues that need to be addressed along with functionalities that need to be added. While buying a modern home just for this purpose is an expensive investment, you'll be glad to know that parts in your antique home can be renovated for a modern feel and functionality.
For homeowners looking to renovate old doors, it is possible to keep their antique features while carrying out renovation in a sustainable and eco-conscious manner. Perhaps the door has fallen into a state of disrepair overtime; take this as an opportunity to make it modern.
Here are some renovation tips to help you out:
Improve its condition
Exterior doors face sunlight and other elements, which cause them to crack, wrap, and see their paint fade off. Sometimes these changes occur without external factors playing a role due to aging. The severity of these blemishes determine how much work is needed to renovate the door.
Strip and sand both sides of the door after you remove it from its hinges. The painting should be taken off with a strip solvent before you sand the door. Severe blemishes will require the use of a rough sandpaper, before a finer one is used. The last step is to reapply the paint. Cracks and gaps should be treated with a wood wax.  These steps aren't needed if you find an old door with a finish that matches the current one.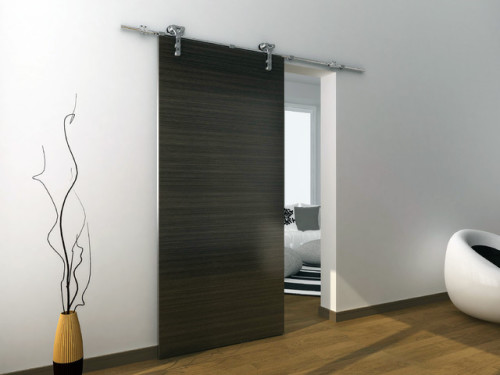 Improve its security
As with all aspects of your home, security is important. Use the renovation period as an opportunity to incorporate security into the door. ADT security packages often feature electronic sensors with home security upgrades. These can be programmed to provide voice alerts when someone closes or opens a door that's monitored. Should someone use the door to enter your home while the system is working, monitoring services will notify you.
Such measures will incorporate modern security into your home. As a result, you can have a peace of mind that if someone unknown tries to enter the house while you're sleep or away you'll be notified immediately of their activity. This should give you ample time to call the officials and report unusual activity.
Improve its life
If old doors aren't properly renovated, they can succumb to biological threats from dry rot, insect attack and algae. So the doors should be treated with quality wood preservative before any coating is applied. This will protect the door from these biological threats. However, follow the drying time given by the manufacturer when using the wood preservative.
While solvent-based preservatives will take only a few hours to be touch dry, the recommended time is usually few days. That's because time allow the solvents to evaporate from the wood and they don't affect the undercoating in this way.
Improve its protection from vulnerability
Once you've taken the previous measures, you'd want to seal the renovated door to help the finish stay bright and fresh. Sealing the door is also essential if you want to protect the wood from weather damages.
Homeowners are recommended to use polyurethane varnish as the sealant for the door. First one side of the door should be dried, before the process is repeated on the other side.