Renovating and redecorating your bathroom without spending a fortune may be simpler and more cost-effective than you think. The secret is to start with great colours then add recycled elements and updated charm. A little imagination goes a long way toward recreating your bathroom and designing a room that you and your family will enjoy.
Inspired Colours, Window Treatments and Fixtures
Start with a wisp of inspiration. Choose a colour scheme that beautifies the existing features of the bath. The paint you select will serve as your palette. From there, you can work in interesting and useful elements. Tranquil aqua-blue or subtle lavender will calm the senses, providing a welcome retreat. If your tile work has become outdated, chose a paint-colour that complements and updates the masonry, then apply stencils if you'd like.
If your bathroom fixtures are beyond repair, consider replacing pieces with updated and affordable options like contemporary sinks and vanities. This process was very time consuming in the past but it's quick and simple when done online. For example, Allure Bathrooms has many options and designs to choose from that can be delivered to your home so that you don't waste valuable time. If you have large windows, make the most of natural light by replacing curtains with attractive window-treatments. Faux-wood blinds and bamboo shades filter outdoor light, adding privacy without concern for water damage.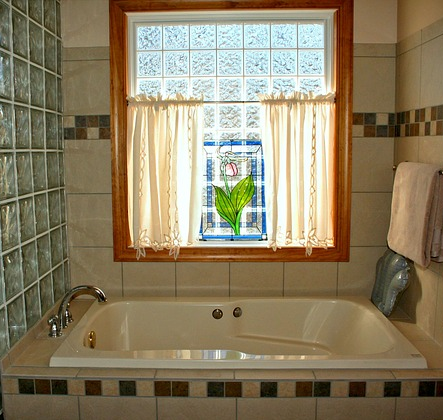 Storage and Decorations
Once you have created a backdrop, you will want to add decorative details that double as storage space. Redecorating your bathroom with found objects not only saves money, it helps keep the planet green. The following quick and easy ideas offer practical solutions.
Clutter is one of the major bathroom dilemmas, so a unified system for de-cluttering will enhance the look almost immediately. Organize your supplies by category in cabinets or sectioned drawer compartments. Moreover, don't be afraid to store, throw, or give away items that no longer meet your needs.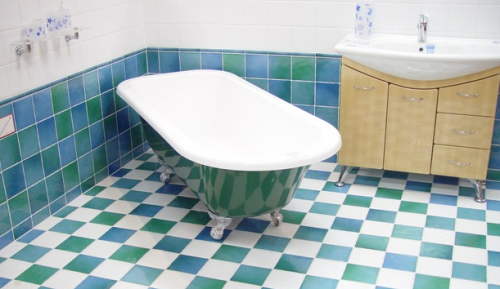 Use rustic bowls and baskets to store bright towels and everyday bathroom supplies. Hang layered 'fruit' baskets from the ceiling, and attach hooks to the walls for hanging robes and hand-towels. Wooden boxes, a vintage nightstand, a small bookshelf, or a large clear cylindrical tube is excellent for storing toilet-paper rolls, lotions, bottles and cosmetics. Clear the mess and store toiletries in cabinets and drawers with 'kitchen' organizers. Replace shower curtains with fresh new drapes. Use coordinating soap, toothbrush, and tissue dispensers with a smooth easy to clean finish. Glass and porcelain jars make excellent decanters for storing swabs and cotton balls.
An Inviting Retreat on a Budget
Cherished pieces, such as antique teacups and sugar bowls, will enhance the look and provide storage for smaller items. An over-the-edge bathtub rack is a convenient storage solution for shampoo and conditioner bottles. If wall space is limited, select a folding mirror that extends outward into the room.
Finally, complete the look with updated lighting and a vase of fresh flowers. Bring the fresh outdoor look in. Follow these simple ideas and use a little ingenuity to update, renovate, redecorate and create a bathroom space. The results will provide a welcome and whimsical retreat, one that you and your family will enjoy for years.