New parents are often worried as how to decorate baby room. Most of them are eager as they want to give their baby the best place to be in. Babies need quality sleep and the quality of sleep is affected by the decor in the room that should be cosy and snug.
Ventilation
The room where the baby is going to spend the most of the time should be properly ventilated. The circulation of wind and air should be proper to ensure a healthy environment to the baby. This has a direct influence on the baby's health. The temperature should be moderate within the room. It is better and safer to put the play pen in a moderate area where the baby is not exposed to strong winds. It should also be kept in mind that the playpen cannot be directly put under the air conditioner.
Display baby's name
A very special way to welcome the baby is by hanging his name spelt out. Alphabets are available in different fun shapes and sizes that should excite a baby. Some are in bright colours while others sparkle. The most important types that are available include ceramic tile, wood, canvas, and fabric letters. A letter stencil can also be used to paint the name of the baby on the wall making use of stencil.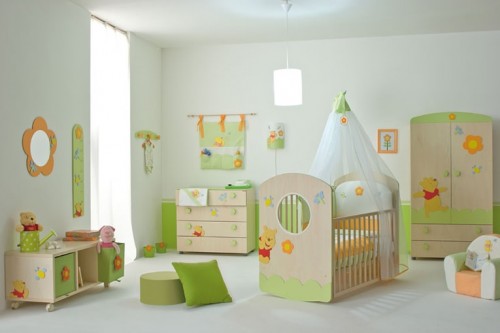 Cloud ceiling
Cloud ceiling is a great way to decorate a baby room. It is a fun decor that works great with other relevant themes such as angels, bugs, airplanes, flowers, and gardens. These create a lively atmosphere where the babies feel amused and excited. The cloud effects on the ceilings also act as a tranquilizer.
Lighting
This is one of the most important aspects in decorating a baby's room. Use of appropriate light is very important and affects the mood of the baby. The lighting in the baby's room should be soft and serene. It is better to incorporate an adjusting lighting system wherein the intensity of the light can be controlled during the day and night. A special mood for slumber can be created with the use of mild lights during the night when the baby will know his resting time. For bedtime the light can be kept dim and low so that aids in tranquilizing to bring about a sound sleep.
Bedroom colour
To decorate baby room, moderate colours can be used so that they are neither too strong and nor too mild. Intense colours can hurt the eyes of the baby and light mild colours will have no effect at all. Choices can be made between pink, light blue and beige colours that are soft and moderate, besides adding jubilance to the atmosphere. Any stimulation that is not needed should be avoided.
The most important thing that should be kept in mind when planning to decorate baby room is it should please the baby.