Are you eager to know how to create a balcony garden? If so, then you can always use some beneficial tips that can help you in getting a beautiful garden in your balcony. One of the worst drawbacks of living in a large city is that you do not have ample outdoor space for creating gardens. However, if you are fond of gardening and do not possess enough space in your house, then there are other methods that you can use in getting over this interest of yours. Creating a garden on the balcony is not very easy, but it is not impossible and with a little bit of effort you can do so.
Grow baskets of berries
Line a flowering basket with some moss and fill the basket with fertilizer and potting soil. Strawberries require full sun for a minimum of six hours every day for fetching the best results. Never try to over fertilize the plants and keep them well watered. By following these methods you can get yourself a small yet beautiful garden full of strawberries.
Window food
Salad herbs and leaves are some of the easiest vegetables that can be grown in a balcony garden because they require nothing except a shallow container of a very bright windowsill. You can also try growing radishes, rocket, tomatoes and runner beans for fetching the best results. Windowsill lettuce beds can easily be made from ice cream containers having holes at the bottom.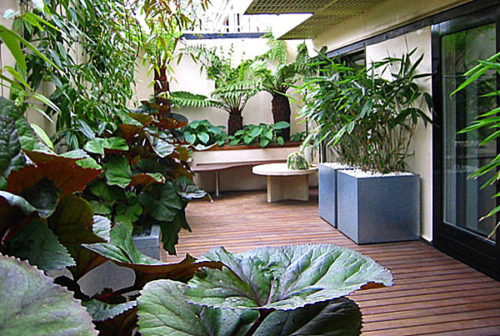 Reuse, recycle or reduce
While you save space, you can even save some extra amount of money also. There are some ways that can help you in doing so:
Reuse wicker buckets or wine crates and buckets in the form of planter boxes.
Use coffee grounds and tea bags as compost for your plants because they are very good for plants.
You can support your tomato plants in the balcony garden by using bamboo shoots.
Prevent slugs from entering your plants by using Vaseline round the rims of the pots.
Careful selection of plants and flowers
You should remain very careful while selecting plants and flowers for your balcony garden. You must make it a point to select only those plants and flowers that are suitable to the surroundings that you live in. If you have a balcony that is exposed to the lights of the sun all throughout the day, then make sure to get plants that can bear such weather conditions like the cactus plant. On the contrary, if your balcony is shady then you can go for plants that have the ability of living under shades.
Decoration
Creating a garden on the balcony is not just about planting flowers and vegetables, but it is also something related to the décor of your entire house. You can easily create butterfly houses, set up a small sitting area for having a cup of coffee and even hang some beautiful fixtures of lights to make your balcony garden look attractive and beautiful. The whole idea behind doing all this is creating a wonderful spot that is filled with living, colorful and fresh things that add an important element of homegrown resourcefulness and self-sufficiency to your otherwise processed, imported and fast-paced life. These are some of the most effective steps on how to create a balcony garden.