Looking for some great ideas about how to choose living room colors? The first thing that you should have in mind is the look and the feel of your living room. Remember, different rooms in your house need greater attention when you opt for coloring. A particular color shade might suit any one room in your house, but it might not be a very good sight in some other room. This is the reason why people having this strong desire of painting their house should remain well-equipped with the techniques of choosing room colors. Good ideas in the paintings are very important when choosing living room colors.
Decide on the looks
Choosing the right color for the living room can be a bit difficult because there are a number of colors options available that might be confusing for many. You should always break down your decision-making process and start by having a look on the big image. Try to come to a decision on what you want your room to look and feel like. Go for natural and light colors like creams, soft whites, sage greens and beiges if you want your living room to look relaxing and peaceful. Pick colors like yellow, bright white and pink if you want a cheery and happy living room. Choose dark and warm colors like chocolate or burnt orange for a classy and invigorating living room.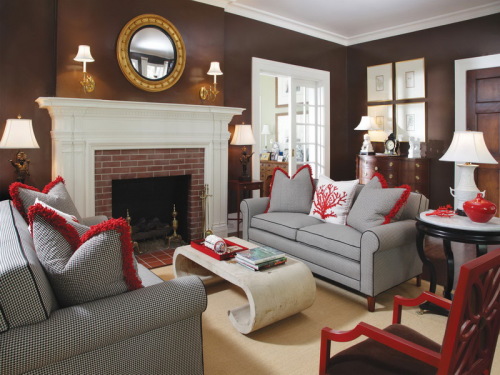 Consider the size of room
When choosing colors it is very important to keep the living room size into consideration. One unnoticed and exclusive quality of color is that it can change the size of a room psychologically. The rooms look much bigger when painted in light shades. This is the reason why ceilings are generally painted white and this makes them feel much higher. The walls of a room appear drawn together with dark colors and therefore dark colors are rarely used in rooms. Go for lighter shades if your living room is small. On the contrary, you can always go for darker shades if your living room is large enough. Dark colors will make your large living room feel more intimate and homely.
Create a better balance
The color shade that you choose for your living room will work only when you out in the best efforts in creating balance. Pick that particular color for your living room that contrasts with your living room décor and furniture. However, this should be done only when you are not going for a monochromatic look. If you choose dark colors, then creating that perfect balance is quite important. Choosing a dark color can be the best idea for a living room with many windows, light colored and wide trim furniture. Keeping the atmosphere of your living room in mind when choosing its color shade is very important for creating that right balance. These paint ideas will help you know how to choose living room colors.