Wooden furniture and fixtures not only heightens and highlights the décor of the interior of your home but also adds to the ambience of your living or study room. However, FF&E, like all your valuable assets, tend to lose their sheen and natural texture in the absence of maintenance. Contrary to what most homeowners think, cleaning and taking care of wooden furniture is not a backbreaking chore. In fact, only a little amount of methodical and periodical care will go a long way in keeping your home furniture spic and span and in tiptop condition.
First determine the modus operandi of furniture upkeep
Though taking the DIY route can help you save money but it comes at a cost. Sourcing ingredients and preparing dusting, cleaning or polishing solutions can be hectic and laborious. It is always more practical to opt for quality commercial cleaning or polishing products if you want targeted and lasting results within the shortest time span.
Having said that, establish the kind of finishing you've before you get started. Always use a specialized cleaner appropriate for the sort of wood from which your furniture has been chiseled. After you're done with cleaning, restore the patina by polishing the furniture using premium quality wax polish.
Cleaning Wooden Furniture
Always upholster the wooden furniture and fixtures with soft padding or fabric covers. Despite using upholstery, the furnishings will tend to gather dust with passage of time. So, before you get down to cleaning the wooden equipment, you'll need to clear the dust first.
You'll need to use a handheld vacuum cleaner to clean areas that cannot be reached manually. For areas easily within your reach, use a dusting sweep or a soft-textured microfiber mop that you can affix on the mechanical cleaner. Finally, clean the fixtures using a specialized product that is compatible with the wooden finishing. Always abide by the 'instructions for use' for best results.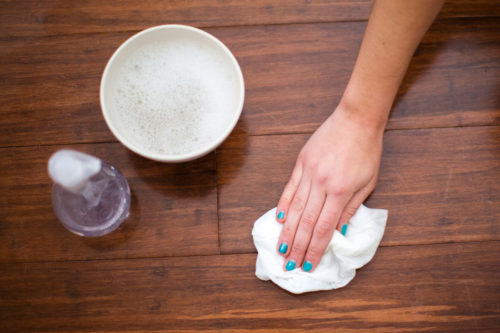 Dusting appropriately
Dusting inappropriately can do more harm to your furniture than accumulated dust. Terry towels and old but clean table napkins are perfect for dusting furniture surfaces. Dusting sprays are ideal for polyurethane and laminated wood finishes but not for hardwood or softwood finishing. Always use the spray on the dusting cloth and never directly on the furniture. Sprays contain oil or silicone that is affinitive to dust.
Re-wax as and when necessary
As far as the finishing is concerned, your furniture may have an unsealed, wax protective coating or varnished layering. Never leave unsealed finishing in a moist state while cleaning. Use a dusting cloth sprayed with a cleaning solution to wipe the surfaces. For varnished surfaces that are also highly susceptible to moisture or water vapor, use a faintly damp cloth or duster. Use a high quality cleanser for getting rid of deep-seating stains.
Keep environmental damage at bay
Excessive heat, UV rays of the sun, and inclement weather can take a heavy toll on wooden furniture in your home. Position your chairs, dining table, study table and other wooden fixtures away from fireplaces, uncovered windows or close to kitchen or bathroom. Keep furniture upholstered and clean the upholstery regularly.