Knowing how to arrange patio furniture is really a gift as it completely changes the appeal of the outdoors. Proper arrangement of patio furniture is very important to make the space feel comfortable enough for spending leisure time. Arranging patio furniture in the perfect way serves as a functional and an eye-pleasing manner of adding comfort to the patio. You can use some patio furniture arranging guidelines to improve the look of your patio and make it welcoming and inviting keeping its function at the forefront.
Purchase perfect size furniture
This is the first thing that you should do when trying to arrange your patio furniture. Buy furniture that suits and fits the space where you are going to use the furniture. Walking freely in the patio space can become very difficult if you choose large-sized furniture that does not suit the space. On the other hand, your patio space might look incomplete and empty if you choose small furniture for the patio. Therefore, making the choice of the right size patio furniture is very important for accentuating the look of your patio.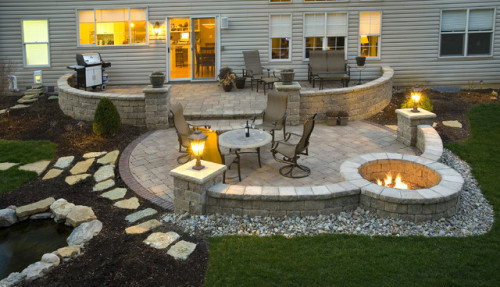 Use patio space wisely
The second important thing that you must keep in mind when arranging patio furniture is about using the space in the best way possible. Keep walkways and traffic patterns clear because these do not change very often. Besides, also ensure that the doorways and the windows are accessible and open. If you want your patio to be used in the form of a cozy area meant for conversation then the patio chairs should be placed closely and they should also face each other. However, for a more open feeling in the patio, there should be a big space kept in between patio furniture.
Arrange furniture rightly
When arranging patio furniture, be very sure about setting long pieces of furniture against the longest railing or wall. Longest pieces of furniture should be taken care of in the very beginning as this makes the arrangement easy with the remaining pieces of furniture. However, keep in mind that this space is meant for free time or leisure time activities and therefore it should not remain cluttered.
Place chairs and tables suitably
Patio chairs should always be positioned against the longest piece of furniture as this promotes easy conversation and also generates a very inviting feeling. Patio furniture should always be accompanied by small tables for accommodating a gardening magazine or a glass of ice tea. Tables in the patio can be placed according to your own preference with the coffee tables and the end tables kept inside the house. The proper arrangement of tables can also serve as a space for putting displays or candles that can enhance the look of your outdoor space. The above discussion will surely give you an idea about how to arrange patio furniture without putting in much effort and will also make your patio look attractive.