Any interior design has no fixed formula or theories. It is all about your preferences, size of your home and the current trends. When you want to design a kitchen island, the same logic applies. But there are a few basic concepts you need to understand to ensure that your design looks perfect and is efficient. You need to start with analyzing your requirements. Find what you require from a kitchen island, are you going to use it as a countertop or as an eating top? Do you want to use it for other functions like doing homework or other tasks? Find the areas you need to focus when you design a kitchen island.
Appliances
Your kitchen island is based on the functionalities you expect to do. So planning the appliances you need to use has a great share in designing the kitchen island. You need to decide the kitchen island based on the functionality, for instance, if it is a sink or a preparatory area. The space also plays a vital role. In case the island is going to be a sink then you would actually require a dishwasher and decide where you need to place it. If the kitchen island is going to be your preparatory area, then plan to have a trash or recycling bin next to your island.
Kitchen's size
Of all the factors, consider the size of your kitchen. This plays a crucial role when it comes to designing your kitchen island. Consider about the things you would like to install. For instance, if you have a bigger kitchen, then you would require a small under counter refrigerator, in case your island is not close to one. Consider about the cook top, counters, hoods and anything that requires space when you decide your island.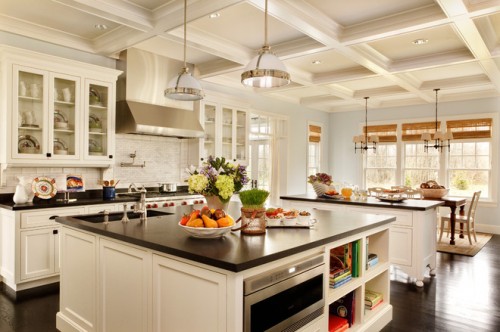 Storage
The cabinet in kitchen decides if you need a kitchen island. If your cabinetry can store all you have, then the kitchen island is never your focus. If your kitchen is smaller and the cabinetry does not accommodate much, then your kitchen island becomes your preparatory area. Then you need to fix the sink, cleaning agent cabinet and the other appliances accordingly.
Kitchen layout
Make sure that your kitchen island fits into the layout of your kitchen. Your kitchen is effective only if all the parts are designed cohesively. The entire space should be used perfectly, so that you do not strain yourself while working in your kitchen. Calculate the working area you require. See what your refrigerator, sink and prep area are about. Do they lack something, or do they have to be altered, so that your kitchen island fits in.
To Hire or not
Hiring a designer to get the kitchen island designed depends on your budget, design and the kitchen area. For larger kitchens you can get excellent designs with a designer. Also, when the design has to be effective and intricate, hiring a designer is a perfect option. But you can also try do-it-yourself options, when you want to save your wallet.