Now that the sun is out and the temperatures are up, you may be wondering how you can transform your home for the season without going overboard and over budget. Whether you are tired of things looking a certain way or you just want to add a little more personality into the mix, here are some tips you can use to enhance your outdoor living space for the season.
Get Cushy With It
Cushions can provide you with more than just a soft and comfortable place to sit on. The right colors and style of cushions can give any space some much-needed warmth, vibrancy, and function. If you are not really sure of which way to go when choosing your cushions, there is nothing wrong with matching your outdoor space with your inside one. Choose cushions that accent or complement the ones that are on your indoor furniture.
Think Comfort and Function
You may want your outdoor living space to look as modern and stylish as ever. However, you should always take your comfort into consideration when you are adding patio furniture. If you plan to spend much of your time outdoors in your backyard, you should consider purchasing furniture that is made to withstand a ton of use. Research different types of outdoor living furniture so you end up with products that make your time outside comfortable for the long haul.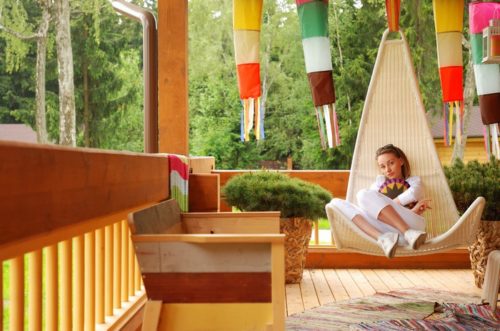 Artistic Appeal With Foliage
Improve the air quality in your outdoor patio area by adding some plants. Climbing plants on a trellis can help to provide some privacy in addition to providing a beautiful view for you to gaze upon. Flowers, shrubs, and other types of foliage can really spruce up any outdoor space by giving it new life and purpose.
Outdoor HVAC Prep
If you have an outdoor HVAC unit, there are ways you can decorate your outdoor space so that it is not an eyesore. Set your patio furniture up so that the unit is not in plain sight. Or if you plan to have your outdoor HVAC modified so that it provides cooling mists, be sure to have a professional company check things out first. It is important for you to maintain your home HVAC so that it doesn't interfere with your outdoor decorating budget and patio space.
Illuminate the Space
One thing you don't want to overlook when decorating your outdoor living space is the lighting. Even though the sun may be shining now, you'll want some light to see when you decide to spend time outside in the evenings. String lights are an economical choice for anyone who is working within a budget. However, you may want to consider solar path lights to give your outdoor patio space some distinction that really enhances the scenery so you can enjoy more romantic evenings at home and more nighttime soirees.
No matter how large or small your outdoor space is, you can use a variety of décor items to make the area more suitable to your liking. If things ever feel a little boring, you can always incorporate themes from any upcoming holidays. Keep an eye out for any trends you may see in your neighborhood and online so you can use them as inspiration whenever you feel like changing up your outdoor patio area's look.