If the new year puts you in the mood for updating your home, there are plenty of ways to do it, many of which are quick, simple and won't break the bank.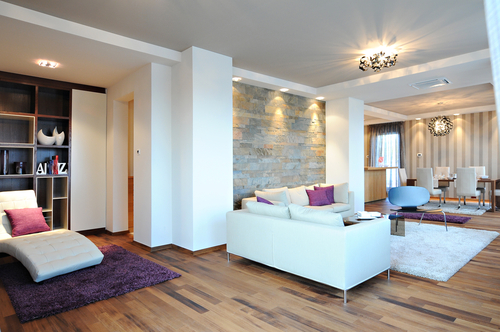 Decluttering
No need to leave a big clear out until Spring, as the new year is a perfect time to do it. There is something very satisfying about getting rid of the things you've been hoarding over the years. If it seems a bit daunting, start small. Pick one task. Maybe sort out winter and summer clothes and put your summer ones in vacuum bags in the loft or under the bed. Tidy away DVDs, put them in the right boxes and get them back on the shelf. A few little jobs will start to make a big difference. Make different piles for recycling, the charity shop, and selling on eBay for a little bit of extra cash after the expensive festive period.
Change of colour
Changing the paint colour on your walls can be the cheapest and quickest way to update your home. It's not entirely 'no effort', as you'll need to prepare the walls, but with the right prep, you can easily re-do a room in a day or two, depending on the size of the room. Grey is still THE neutral colour to have on your walls, but if you prefer something more lively there's plenty of choice, with wallpapers in every finish, colour and pattern, and paint in every shade you can imagine. Keep bright colour or wallpaper to one wall if you're feeling less bold. Feature walls are a good way of injecting colour without going overboard. Be wary of very strong 'in' colours, as they will date more quickly, if that's something that matters to you.
A welcoming entrance
Your entrance hall is often the last place at home to get a little TLC, and yet actually it's a pretty important part of the house. Even if you don't really care what visitors might make of it, coming home to an attractive, tidy and welcoming space can be very rewarding after a tough day, whereas coming home to a mess of shoes, coats and general chaos is not likely to improve your mood. A good clearout is a must, so get rid of any odd gloves, coats and shoes cluttering your hallway. For example, in summer months, it's not necessary to have winter coats taking up space. If you haven't got a cloakroom, put up plenty of coat hooks, as each person in the house probably has at least two coats, plus bags and perhaps PE kits, and any extra hooks come in handy when you have visitors. If space is limited, then a slimline console table is perfect and if space is really very tight, then put up a couple of shelves for keys and wallets. Finally, think about the walls and lighting. Keep it simple with neutral colours, or ramp up the style with a bold wallpaper or paint finish.
Zone your flooring
The trend for open-plan living has been around for a few years and many of us now have open plan living and kitchen areas or a kitchen/diner. It's important to get the space to work well for you though, and one way of doing this is to zone, or define the separate areas. You can do this with décor, but using different floor treatments also works well. You can use carpet, tiles or wooden floor to mark out the different parts of the room. However, if your budget is tight, use the same flooring throughout and use rugs to break up the space, as they'll add warmth and colour and can be moved around to suit your needs. Rugs range from expensive hand-woven rugs costing thousands of pounds to cheap rugs costing well under £100, so there's bound to be something to suit every budget. With everything from traditional Oriental to contemporary, you're bound to find something to suit every taste.
Update accessories
The cheapest and fastest way to update your home is to change the accessories and soft furnishings. New cushions, rugs or curtains will instantly update and change the look of your space, and these can tie in with tablecloths, napkins, even your crockery and cutlery. It doesn't have to be super expensive designer prices either – the high street and the internet are excellent shopping territory if you're trying to budget. The other rooms in the house can be updated just as easily, with a new bedding set, or new towels and tea towels, or even mugs and plates, all of which are available in a veritable rainbow of colours and shades, with prices starting at a few pounds.
Are you ready for a fresh start?