Life is busy, and keeping your home organized with everything you have to balance is a challenge. But you don't have time to start a bunch of big DIY projects to give yourself more shelving and cabinets. That's why simple organization solutions that don't take much time are key. They go up quickly, and make your life so much easier. The best part: Some of these organization ideas make cool accent pieces, too!
Take Advantage of Storage Under the Bed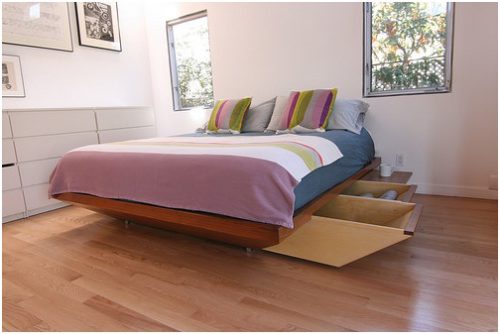 Image via Flickr by Jeremy Levine Design
Tell the dust bunnies under your bed to find a new home. Under-the-bed storage comes in many forms, from wide, shallow baskets to big plastic containers. Use it for bulky clothing that doesn't fit in your closet, shoes that you don't wear often, extra linens and winter blankets. In a kid's room, storage under the bed is a great substitute for a toy basket or a costume chest.
Put up a Peg Board
Peg boards are smart storage solutions in kitchens and bathrooms. Measure your available wall space, then have peg board cut for you at your local hardware store. In the kitchen, use it to hang your spatulas, tongs, pots and pans. In the bathroom, it's a great place for your hair dryer and curling iron. Attach wire baskets to the peg board to hold lotions, tooth brushes, and makeup.
Build a Rolling Cart
Rolling carts are seriously useful in small homes. They're small, so they fit in corners and against walls without getting in the way, and they're handy since you can easily move them from one room to another, even when they're full of stuff. Build a rolling cart for the kitchen to store your oven mitts and dish towels, or craft one for your living room. Use the top as a TV tray, and the storage beneath for movies and your favorite games.
Hang a Spice Rack in the Bathroom
The spice racks that look like mini shelves and hang on the wall are perfect for bathroom storage. Hang a few near your bathroom sink and mirror. Put your toothpaste, lotions and hair products in the spice racks to free up the counter space around your sink. Keeping the sink clean is much easier with everything off the counter space.
Use a Tension Rod Under the Kitchen Sink
Most of your cleaning products are in spray bottles. Keep them organized under your kitchen sink with a tension rod. Install it across the space beneath your sink, in front of the visible pipes. Place it high enough that your bottles will not touch the bottom, freeing up that bottom space for things that cannot hang. Then use the nozzle trigger to hang the bottles. You'll have to install the tension rod quite firmly so it doesn't come tumbling down when you hang your full bottles of cleaning products.
You don't need a bathroom remodel or new cabinets in the kitchen to remove the clutter from your home. Easy storage solutions provide clever alternatives to expensive projects and new furniture.