Nothing is more devastating than a flood. Water damage will not only harm the fabric of your property but also destroy treasured possessions, including furniture and carpets. If you're the victim of flooding, the clean-up can be a long and slow process.
Before you proceed, call your insurance company to make a claim.
Furniture and Carpets
If carpets have been exposed to prolonged immersion in water, you will have to remove and destroy them to remove any possible danger of mould contamination, which can present serious health problems. Otherwise remove any carpets quickly as possible and get them cleaned and disinfected. Dispose of any underlay.
Any fabric upholstered furniture will have to be destroyed for the same reason, and any flat-pack furniture is likely to be beyond repairable use as the component parts are liable to swell. Solid wood furniture may be salvageable, but you'll need to dry it slowly – consult a restorer for the best way to proceed.
The quicker you can move any of these items out of the way of the floodwater, the better the chances of saving them.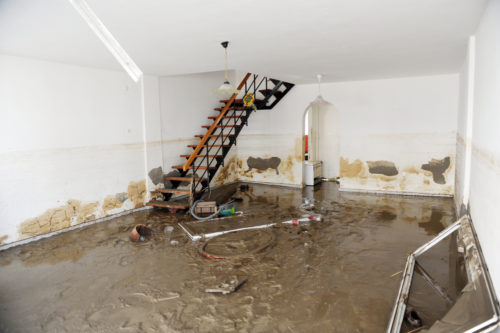 Electrical Goods and Circuits
You should move all electrical goods as quickly as possible and turn off the power. Depending on the amount of water damage, these may be repairable but will require specialised cleaning. Do not attempt this yourself, and don't switch on any electrical items until they've been examined to minimise the risk of electrocution.
You must have the power supply to your home checked by a qualified electrician.
Papers and Documents
Salvage what you can, place in plastic bags, and freeze them for clean up later. If you are at risk of flooding, you can check on flood-risk maps at the Environment Agency and sign up for flood warnings and alerts. You can then ensure that all your valuable documents are stored in plastic zip lock bags.
Crockery, China and Glass
Disinfect all china and glass in a bleach solution before allowing to air-dry. Disinfect cutlery with boiling water. Use bleach to disinfect all surfaces and cupboards in your kitchen.
Fabric of Your Building
It's likely that the plaster on your walls will have suffered water damage and will have to be removed – likewise any plasterboard internal walls. You'll need to ensure that the building is thoroughly dried and disinfected and you've applied a mould inhibitor before renovation plaster can be applied. Renovation plaster work will need to be undertaken by a skilled tradesman.
You'll also need to remove any fibre cavity wall insulation from internal partition walls, as this acts like a sponge. Remove any flooring to allow the subfloor to thoroughly dry out. For solid wood flooring, remove several floorboards to prevent buckling as the wood expands and then contracts.
You must ensure that everything is thoroughly disinfected to prevent any possible risk of infection.
Make a Flood Plan
If you've been flooded and are likely to be flooded in the future, you'll need to make a flood plan. Plan your escape routes, and invest in an emergency pay-as-you-go phone to store relevant emergency numbers. Sign up for flood warnings, and store all your insurance documents and other sensitive papers in sturdy zip lock bags.
A submersible pump is a must to remove water as quickly as possible from your home. Stockpile sandbags, and have a safe place that you can move electricals, furniture and valuables to in the event of a flood.
Will the Worst Happen This Winter?
Unfortunately, the early weather indications say that the UK is in for another winter of storms and wet weather, with widespread flooding likely to bring misery to thousands of homes. If you live in a flood-prone area, you're advised to be alert for flood warnings and to ensure you have adequate insurance cover before the worst happens again this winter.