Nail lacquer and polish addicts may often find it difficult to stack their countless shades of nail polish bottles at one place. Instead of suffocating your dressing table shelves with bottles, you could build an own nail polish organizer through sparking your creativity as well as find a solution for the growing nail art collection.
Acrylic Nail Polish Display Rack 
Show off the colorful nail polish bottles collection in stylish, stunning look with this beautiful display rack! Being perfect for appending display space to wall, table, or counter, this organizer display rack is made from a transparent acrylic which helps keep all the beautiful nail polishes perfectly visible.
Round Nail Polish Display Rack 
Being practical and gorgeous, this nail polish display rack features five-tier shelves to provide you a beautiful display of all your pretty nail polish bottles. These are also ideal for showcasing other tiny cosmetic bottles such as aromatherapy and essential oils.
Nail Polish Display Floor Stand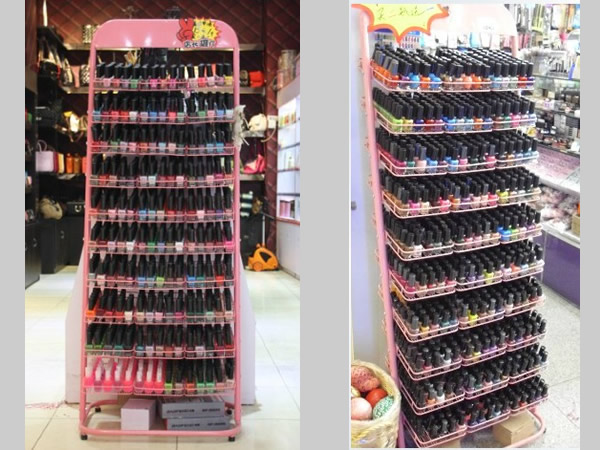 If you do not like drilling holes into the wall, you could make use of these beautiful floor stands for displaying nail polish bottles. They are portable as well as lightweight hence it can quickly be moved here and there.
Spinnable Nail Polish Display Rack  
This New type of Nail Polish display Rack is great to organize all the Nail Polish bottles and is a convenient way for you to choose all types or colors of different nail polish in a single place.
Nail Polish Wall Rack with Lock
Safeguarding your nail polishes with a door and lock is absolutely necessary to secure them from dust and damage. Kids are attracted towards colorful materials, and they will spoil these if they are left without a lock.
Large Nail Polish Display Rack
Large nail polish display racks are suitable for shops and malls rather than personal use. They ae particularly helpful when your salon is running out of space. They serve both as a decor as well as display.
Metal Nail Polish Wall Rack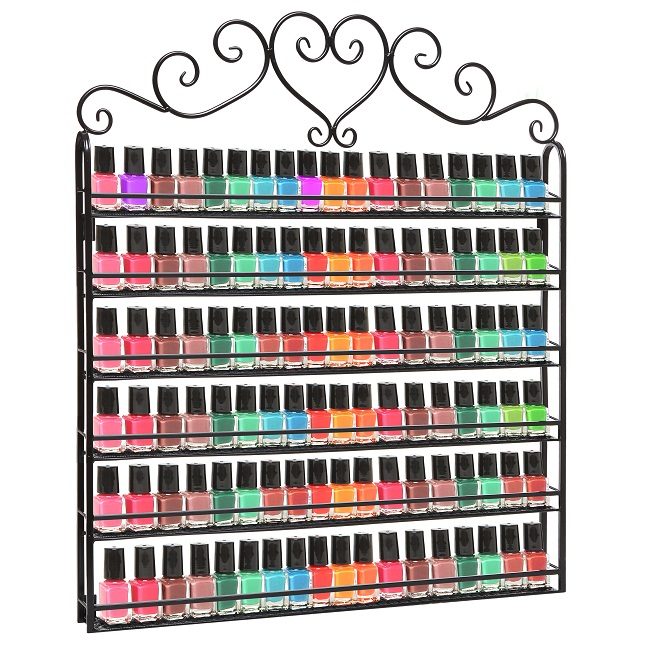 Metal nail polish racks are reliable than acrylic. If the acrylic display racks fall accidentally, there is a high risk of breakage not only for the shelves but also for the bottles.
Wall Mounted Nail Polish Rack
Wall mounted nail polish display racks are the conventional design since they are not portable and will not hold more number of bottles. However, they give a subtle and eye-catching display than other types of nail polish racks.
Nail Polish Display Containers
Nail polish display containers are very safe when compared to racks. However, you could not showcase your collection to your friends and neighbors. They are readily available in the markets and can also make one on your own.
Small Nail Polish Wall Rack 
If you have a very few collection of nail polishes yet wanted to display them, these small nail polish racks would be helpful. An old spice rack is more than enough for these number of nail polish bottles.
Wood Nail Polish Wall Rack 
https://i.pinimg.com/originals/0c/8c/8b/0c8c8b465b5ee93c9900d23654d72a25.jpg
If you want to give a vintage effect to your home, try these wooden nail polish wall racks made of old wood pallets. This is very cheap yet gives a cozy look to your sweet home.