High quality home entertainment is becoming a fixture in more and more homes. As plasma screens and high definition speakers become more attainable for consumers, we get closer to recreating the experience of the cinema or concert in our living rooms. While this may be a family-friendly movement – the kids will appreciate being able to watch the latest sassy animal CGI outing on a giant screen – a lot of this kit ends up in so-called 'Man Caves'.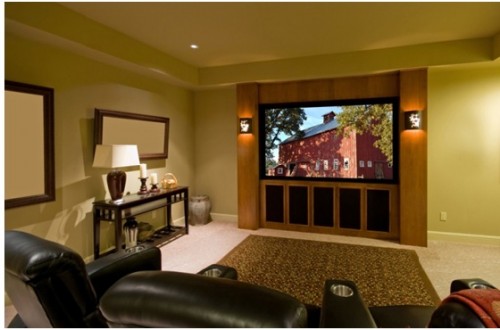 It's become an aspiration of many men to create a little sanctuary, taking pride in the luxury of their seating and the expansive DVD storage options. This might be a commonplace desire, but the actual shape these rooms take can differ wildly – whether it's just a souped-up study or a full blown screening room, however, there do seem to be some prerequisites that ring true across the board.
With that in mind, what is there out on there on the internet that can contribute to the perfect man cave?

Walk in beer fridge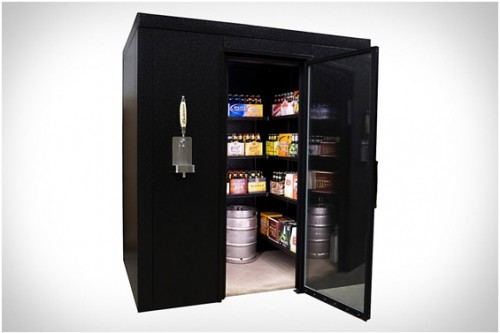 Source: Uncrate.com
Much like the saying that 'a home without books should not be trusted', you can say much the same of a man cave that does not contain some form of alcohol storage unit.
Going to the kitchen, where you might encounter other members of the family who are enraged that you've hidden in the cellar all day playing video games, just won't cut it. Thankfully there are walk-in fridges available on the internet that have been specifically designed so that you never have to walk into another room. Except that this fridge basically IS a room.
Available from the U.S. for $6,350, but shipping is free – bargain.

A Corner Sofa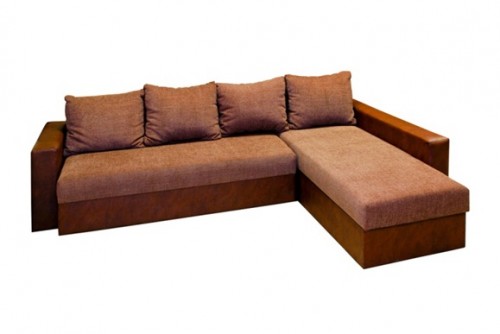 One of the finest things to do whilst you lie down; a massive, squishy corner sofa will make for the perfect addition to this kind of dwelling-space. As they can be found relatively cheaply online, from stores such as Hello Sofas, there's no reason why they can't be a fixture of any man cave.
Again this works for a family or strictly masculine space in the house, but they do make the perch for any gaming or film-watching, so a necessity to any male reservation.
PS4 or Xbox One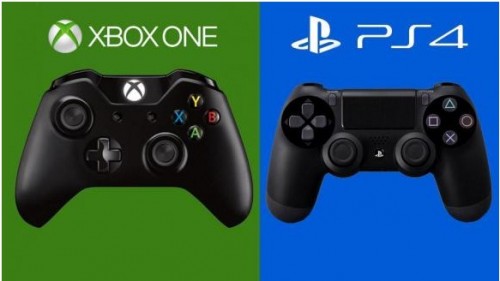 Source: cdn0.mos.techradar.futurecdn.net
The latest range of consoles have been recently unveiled by Sony and Microsoft, the dedicated gamer can now spend an eternity arguing and justifying exactly which console is worth investing hard-earned money in for the next generation of games. Aggravated bashing aimed at those who disagree is not compulsory (but we can expect to see a lot of it, regardless).
Though both consoles pack a similar amount of muscle, the one currently leading the digital popularity contest is the Sony's Playstation4, though experts are unsure of the full potential of Xbox One. This infamous race is far from over; especially because neither has been released yet.
With PS4 available for pre-order on Amazon for roughly £70 cheaper than its Microsoft rival however, if you want to play online with your friends in the next few years, this could well be the console to put money down for (especially if you splashed out on the Walk-in fridge).
Home Cinema System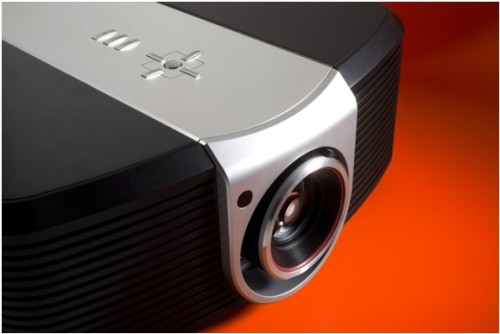 Almost as if it was invented for the sole purpose of a man den, a home cinema system is a welcome addition to any home, but more so, when they are installed in what Paula Aymer of Tufts University calls the 'last bastion of masculinity'.
Thanks to the internet, you can find great deals on home cinema systems, as they can be found relatively cheaply across the UK. A Projector for example, can be found for as little as £200 from PC World and other electronic retailers.