The heating of your home is one of those things that is essential to living there in comfort, but may seem far less fun than choosing other features for your design project. Central heating is especially affected by this designer ennui, as while it is energy efficient, easy to maintain and has been used as the standard way of heating homes for decades, it doesn't seem as exciting to design as say, an open fireplace or a room with no visible heating because an underfloor solution has been chosen. In this cast iron radiator are used for proper heating and also for power saving.
Happily, the days of all central heating systems involving radiators that are clunky, ugly and hard to design around are over. Thanks to more stylish modern designs, it is possible to choose central heating – an undeniably convenient way to heat a home- without any décor downsides.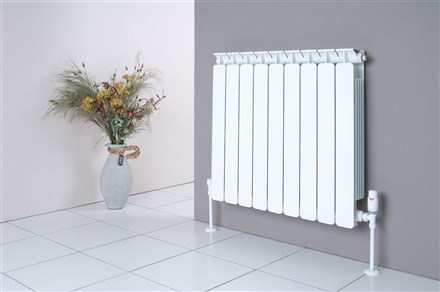 Better Looking Materials
The old fashioned radiators we are mostly familiar with play havoc with the styling you may want to choose for a modern home design look. As big, unwieldy looking iron things with big knobs on them, the best you could do was paint them and hope they blended into the wall. They never did. Now, however, it is possible to connect your central heating system up to units made from better looking and better performing materials like aluminium. You can also opt for finishes that look great without painting, with chrome radiators becoming popular in houses where a modern look has been chosen and chrome is a big design feature. To get some inspiration on what these materials look like when used in houses, visit Warmrooms.co.uk for aluminium radiators.
Layout and Design
Another aspect of designing a stylish central heating system that many people don't really realise is a possibility, is looking at structuring the heating units so they form a design feature all of their own. You may think that radiators need to be blocks of a certain width, but in actual fact you can also go for vertical designs with thin radiators that are long on the wall giving a visual effect while also not limiting the wall space you can place furniture up against in the same way. This can be a good way to get around problems with heating small rooms while maximising wall space for furnishings, which can be important in smaller rooms like children's bedrooms.
Bathroom Heating
One thing a good central heating system can also allow you to do is heat your bathroom in an attractive way. With a small bathroom, your heater can be designed as a heated towel rail or rack, whereas in a bigger room you can coordinate a heated towel rail with the main heater so you get a consistent and appealing look.
Choosing a good central heating system isn't difficult when you know the options that are available – there is no need to be limited by old fashioned designs when attractive, trendy and understated modern designer radiators can give you the warmth you require while also looking good and saving space!