If you're looking for a way to create more useable living space in your home or even create a home office with enough space to give you a warm and welcoming environment, you've most likely considered the usual options; extending your property, rearranging furniture or perhaps you have more storage units than items that need storing. One option you may wish to consider however, is replacing your old patio doors with brand spanking new bi-fold doors. Why?
Bi-fold doors give an exceptional view of your outside space and allow light to flood into your home. Bi-fold doors remove the barrier between your indoor and outdoor living space, effectively merging the two into one free-flowing area and the low threshold allows you to move between interior and exterior with ease. Bi-folding doors will give your home an unrivalled sense of space and can be designed to fit any home.

Work From Home
Connecting your indoor and outdoor space with bi-fold doors can also create more usable space in your home. One of the major advantages bi-folding doors have over traditional sliding doors is their ability to fully extend thereby giving you more light and air inside your home.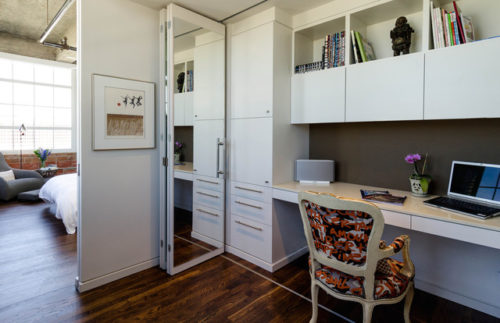 Edinburgh-based home improvement company, Eco Bi Fold Doors believes that this is one of the main reasons for the increase in sales during the last couple of years. A spokesperson for the company said, 'because bi-fold doors open fully it's as if they almost bring your garden into your indoor living space. This gives the sense of having a more tranquil and open environment which is especially positive if you work from home as many believe it can boost your productivity.' With your stunning new bi-folding doors, you have a spacious and light work space, with unparalleled views of your garden. Well it certainly beats the four walls of your average office!
Cool in Summer – Warm in Winter
With the unpredictable Great British weather, you never know quite what to expect. Whilst you can't stop the weather showcasing all four seasons in one day, thermally efficient bi-fold doors ensure you're prepared no matter what the weather (snow in June, anyone?). Eco Bifold doors actually surpass the British Building regulation requirements so you can rest easy, knowing you and your family are kept warm and cosy on those cold winter days and cool and breezy on those (few) warm summer days.With a certified U Value of up to 1.3 and triple glazing, your bi-fold doors are guaranteed to keep the chilly winter weather where it belongs-outside. Not only are you fully protected from the weather in your home, investing in bi-fold doors can drive down your energy bills, benefitting both you and the environment. You can wave goodbye to your noisy desk fan as the weather begins to warm up as bi-folds will help you keep your cool. You can keep your home chilled by fully opening the doors, allowing the air to circulate and letting you take in those exceptional outdoor views and make the most of your outdoor space in summertime.
Safety Catches Mean no Trapped Fingers
Security and safety are of the utmost importance to homeowners and you can be sure your bi-fold doors have been designed with this in mind.If you are worried about trapped fingers in doors, you can relax knowing the safety catches on your doors ensure there will be no such accidents. A safe memory foam gasket is used in bi-folding doors to prevent any little (or large!) fingers getting trapped; meaning both you and your family can enjoy the benefits of your doors without worrying about any safety issues.
It Doesn't End There…
Bi-fold doors provide many benefits unrivalled by traditional sliding doors. Still not convinced it's time for an upgrade? All Eco Bi-fold doors come with an industry leading 20 year guarantee, giving you complete peace of mind. With 150 colours to choose from, you are guaranteed to find something to complement and enhance your home décor. Bi-folding doors are made with 100% recycled premium grade aluminium therefore you need not worry about durability or maintenance. These benefits, coupled with the stunning views and sense of space and light they give, you can be sure bi-fold doors will help you fall in love with your home all over again.