The designing of the kitchen interiors requires great skill because the most important thing to be remembered is that it should be designed in such a way as to ensure complete utilization of space.
When the construction of your home is complete, the major work that is left behind is that of interior designing. Two most important places that require interior designing more urgently than the others include drawing room and kitchen. However, both the designing and renovation of kitchen interiors can dig hole into the pocket. The expert designers would charge you really heavy. So, it is way better to design or renovate the kitchen by yourself.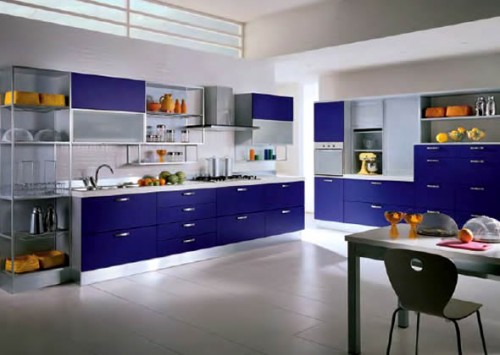 Whether or not you are employing an interior designer, skill and right planning is crucial. There are few tips given below that can help you to remodel or redesign your interiors of your kitchen.
When your kitchen is small, it is advisable to use light colors such as off-white or beige. However, for breathing life into the kitchen and for making it come alive, you can accentuate your kitchen with the use of contrasting colors. But you should remember that bright colors would always cause the kitchen to appear smaller than it really is.
The kitchen counters should not have tiles in dark shades because the residual soap is distinctly visible on dark colors. Moreover, when the residues get hardened, it becomes difficult to clean. For the sake of cleanliness, it is good to go with tiles having lighter shade.
It looks good and is convenient when the work triangle is formed by the stove, the refrigerator, and the sink. These three things, when kept close to each other, are of great help in cooking.
The kitchen can be adorned with small indoor plants. They look beautiful and enhance the charm of the kitchen. Plants, green as they are, offer a soothing touch to the kitchen interiors.
You can also add themed slipcovers, table cloth, and curtains, to add life to the kitchen. This theme should be set in accordance with the occasion so as to make the kitchen come out alive with colors.
Make sure to add adequate light to the kitchen. It must not look dim and dull. There should be a main light centrally located on the kitchen ceiling while below the cabinets that are hanging, task lights can be added. This will impart a modern, yet sophisticated touch to your kitchen making it look elegant.
The small accessories in kitchen should match and be in accordance with the theme and design of the kitchen interiors. Dishes, placemats, bowls, trivets, and other kinds of cutlery should be in keeping with the tone of the kitchen.