Making your home fit for all seasons and everyone who is likely to visit your home is a very important aspect for any house. Big families face a lot of trouble and chaos towards keeping the house well organised and this list of 10 home ideas fit for a crowd are aimed towards making those changes which can keep everything smooth and maintained in the best possible way.
1. Two pantries
The availability of an extra pantry close to the garage or mudroom definitely helps in keeping bulkier and heavy items until the time they are required. This way space inside the kitchen can be freed up for some other purpose.
2. Disorder free entry
It is a good idea to setup some entryway organisation by providing a shelf, basket and a hook for every member of the family. It is to be ensured that adults and children keep their stuff before entering the house.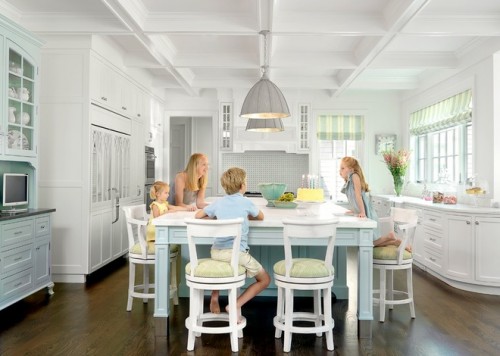 3. Open floor plan
Open floor plans are great for any house as the entire area can be watched from just about any part of the house. This home idea for a crowded home is no doubt beneficial as open floor plans means more space to keep things organised.
4. A spacious kitchen
Kitchen is preferred place to hang-out within the house which is why it is necessary to keep the area spacious. A long kitchen table can be included and step stools can be accommodated for younger members.
5. Easy laundry placement
Instead of keeping the laundry at the basement, a good idea is to place the dryer and washer near to the kitchen, bedrooms or mudroom.
6. Self help stations
The youngest members of the family should be involved by keeping table setting supplies within their reach in bins and baskets.
7. Second set of dryers and washers
If the family is too large then the home idea to include another set of dryers and washers can certainly help in saving huge amounts of precious time.
8. Beds maximizing space
The inclusion of bunk beds allows 2, 4 or even 6 kids to sleep in one room. Bunk beds with closed–off, solid headboards should be chosen for proper privacy. Day beds can also be placed end to end which assists towards making more space available for seating and sleeping.
9. Extra sink
Disagreement over bathroom space can be avoided by including double or triple sink. Kids can be provided with a separate sink for their convenience.
10. Well-organised playroom
Playrooms always tend to get dumped with kids' stuff and toys which is the reason why it is vital to create some inspiring space with the addition of open-ended toys and fresh materials. Labelled colourful bins can be used for keeping the toys of the kids on the shelves.
The popular home ideas fit for a crowd emphasizes mainly on utilizing the space available in a sensible and intelligent way along with the addition of a few basic items to make the house fit for a perfect living and happy living.