Whether you own an expansive garden or just have a patch of grass, lawn care is one of the most important and daunting tasks that help keep your home prepared for any occasion and help you relax in comfort. Unless you have a generous and helping hand at home, you need the right landscaping equipment to transform the plain yard into a beautiful garden. Mowing in summer, mulching in autumn and removing snow in winters is all made easy with the right lawn mower that meets all your needs. Clearly, the type of lawn mower that you need depends on the size of your garden and making a right choice is not an easy task given the number of choices available. Here's a guide to cutting a good deal in buying the right mower for your lawn.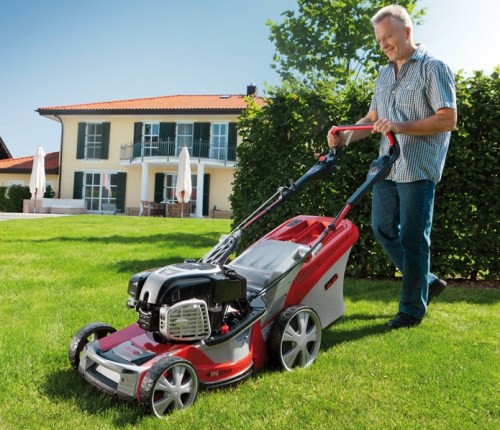 Petrol powered mowers
They are preferred by most homeowners for their advantages over the others. They allow you to roam freely as they are not tied to any power supply and are particularly ideal for those lawns that are not near to the power supply. Petrol mowers are also more powerful than hand-driven and electric mowers and in that they are easier both on you and the lawn. Another main advantage of the petrol powered lawn mowers is that there is no risk of cutting through the power cables which is the case with electric mowers.
Push mowers
They are required to push to operate and are not ideal for those who are a little weak physically. As the blades of the mower move and cut the grass only when pushed, they are not effective in cutting long stalks of grass and weeds as the power produced by pushing is often not enough. The lawn has to be mowed very often as the grass cannot be cut too short with push mowers.
Electric mowers
They are available in corded and cordless type. Limitation in reaching out the entire lawn is the primary disadvantage of the corded mowers as the cord does not allow mowing too far. Another hazard with these mowers is the risk of injury. Cutting down the cord while mowing with these mowers might prove to be fatal if the person mowing the garden is not alert. Again, if you are looking for the battery operated electric mower, bear in mind the risk of running out of power as it runs on 12 volts batteries and is not ideal for large lawns.
While there are many advantages in buying a petrol-powered mower, it also has its downsides too. Particularly, you are more likely to wake the neighborhood due to the noise they make. Another hitch in buying the petrol mowers is the rising price of fuel. They are still preferred by many due to their flexibility in reaching out even the hard-to-reach areas of the garden and their efficiency in mowing the garden.