When it comes to choosing designs of garden paving slabs, there is an enormous selection to choose from. If you're looking to turn your garden into the beautiful outdoor living area then you have to design it with proper care and planning. There are various things you need to consider such as what type of paving design or stone selection to choose from and the area/size of your garden. Using some details and innovative twists with paving slabs, you can make a great addition to your garden in terms of individuality and character.
Your garden design will be largely determined by its size and layout, but for the perfect transformation of your garden paved areas, you can't go far wrong with concrete paving slabs and natural stone. Likewise, you can select the suitable option for your garden as per your style preference. Whether you're going for a traditional or contemporary design, you will find numerous paving options to choose from.
Patio paving garden design innovative ideas
Paving layout:
There are many varieties of garden paving patterns available to buy either at your local garden store or online from a paving specialist such as easypave.com which offer a wide choice of paving slabs in different styles and colours to choose from.  There are some patterns which are usually preferred by garden lovers such as a basket weave, herringbone, running bond and many others. When deciding the paving layer patterns, some factors need to be considered such as:
Cost Consideration
Overall Design formation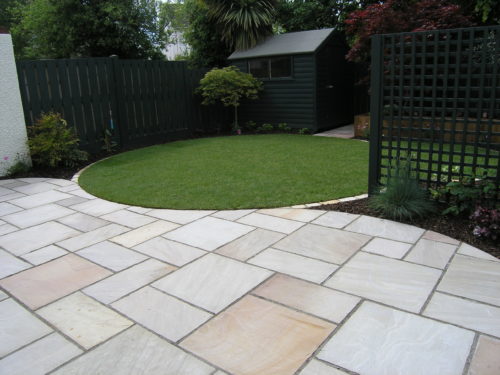 Modern steppingstone:
Using pieces of broken concrete for creating random looking paths is a great idea. Children love to play and jump on such kind of surface. In this design, a path is created for front door using steps of these concrete pieces.  With uneven slabs, you can create beautiful stepping stone path. Nowadays, there are many popular types of stepping stones that will transform any garden such as:
Dragonfly stepping stone
Soul stepping stone
Flowers stepping stone
Butterfly stepping stone
Go for freestyle:
While creating flowing paths you can bring garden pavers and cobblestones together that leads you through the space. If you're looking for freestyle pathways with unique patterns there are innovative design ideas you can choose include:
Step up or down:
Making level changes in your garden may result in spending more money. In order to reduce this cost, you can make use of beautiful grass steps with stone retainers. Try to make steps deeper for ease of maintenance. There are other things which you will need during installation of steps such as:
Rocks
Grass
Level
Rubber Mallet
Keep eye on budget:
Keeping within an allocated budget will be one of the crucial things when redesigning your garden. This material may be on the expensive side but it doesn't mean that you missed out the stylish solution. Combining concrete pavers with gravel to create standout paths gives very simple, stylish and inexpensive solutions.
Conclusion:
So here we discussed innovative designs and ideas for garden paving slabs. Paving slabs can transform a garden whilst being very cost effective. As we all know, a garden plays a key role in the overall look of our house so we need to think of different combinations and formations to choose the best design for our garden.