Whether it's the space, the time or the inclination – creating the perfect garden space can be a real challenge at times. When your garden has gone beyond lack-lustre and all that's facing you is a fading fence and various hues of grey and beige, getting out there and starting from scratch is not anywhere remotely on your radar. But it can be – I promise, there are simple tips and tricks to turn your garden is something that will be yearned over.
Paint
Paint the walls, paint the fence and paint the decking. A splash of colour in the garden can revive even the most tired of spaces. Break the mould and fend off the urge to buy a tub of terracotta stain and opt for light colours like cream and olive to give you a completely different perspective on your garden and provide a wealth of inspiration.
Alternative containers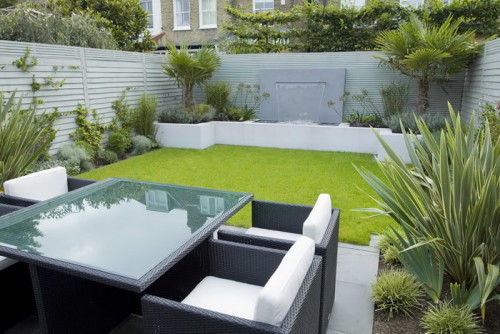 From pots and window boxes to tea cups and mason jars; there are so many options when planting shrubs, flowers and even vegetables in the garden. Could your current planters use a lick of pastel paint or bring them up to Pinterest scratch? Container gardening is big news right now, is a great way to add greenery to your garden, you don't need to have much of the fore mentioned space, time or inclination to create a beautiful, colourful retreat.
Lighting
Fairy lights and candles are a great way to add ambient lighting to your garden. Wound around a tree or tacked to a fence, fairy lights can add certain magic to long summer nights. Candles placed in jam jars or homemade lanterns and hung on a tree branch are worthy of any Pinterest post. Inexpensive rope lighting takes on a brand new look when lining flower bed or garden paths.
Seating
There are many options when it comes to garden furniture, but after putting so much hard work in, investing in furniture that is ready to be used and will last for years to come is the favoured option. Unless you are lucky enough to spend countless hours enjoying your new space, chic bistro style furniture is a great style to opt for. Don't forget to style up your table and chairs the same way you would if they were indoors, bright cushions and elegant settings can make all the difference to the time you spend outdoors.
Something for the little ones
The garden can provide both and magic for children. Why not create a place for the fairies to visit with some spray glitter and a fairy door or perhaps a whole container fairy garden! Create a shady reading corner for your children, complete with colourful throws and soft pillows or even a rustic tree swing!