If you want to add movement, colour and a sense of tranquillity to your garden, a pond is the obvious choice. A water feature can add value to your home and as long as you know the basics, doesn't have to be a high-maintenance investment. Keeping fish in your pond can be a wonderful pastime, so make sure you're clued up on the appropriate depths and temperatures required for different types of fish.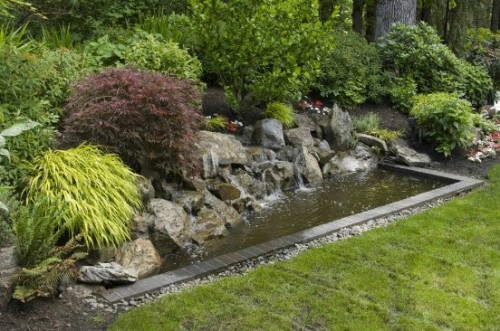 Pond Styles
When choosing a water feature, be mindful of your budget because this will influence the size and style. Types include liner ponds, pre-formed ponds, waterfalls and self-contained water features. Using a pre-formed pond can be a more convenient option as they come in a variety of shapes and sizes and are designed to withstand extreme weather conditions as they are fabricated from heavy, rigid polystyrene. However, pond liners are better suited to custom designs are you aren't limited in terms of dimensions. Liners are made of flexible rubber and it's important to check that the one you choose is suitable for pond use as some contain oils that are harmful to wildlife.
Location, Location
The location of your pond is very important and requires some advance planning. Choose a level site in an area that receives sunlight for at least half of the day and avoid areas that always stay wet or are overhung by low trees. Falling leaves will clog up your pond. In the interest of safety, avoid digging in an area where there are power cords below ground and always use a Ground Fault Interrupter or a circuit breaker during the installation of any pond equipment. It's advisable to position the pond where it can be easily seen from the house, so you and your family get as much benefit from the water feature as possible.
Pumps and Filtration
Pumps are essential to garden ponds as they drive the constant flow of water required to keep the pond clean and healthy. Plants and fish require an environment with good water circulation and filtration because without these things, there isn't enough oxygen in the water. When buying a pump, remember that a more powerful model is required if you are planning to install a waterfall, fountain or pond ornaments. Pond water should be circulated once every two hours. All Pond Solutions offers a wide range of filters, sterilizers, skimmers and UV lights to keep your water feature in the best possible condition.