As the temperatures rise, many people are now opting to expand their interiors to the outdoors! Today, we're seeing a rising trend in homeowners building courtyards, gazebos, decks and patios. This trend reflects recent spikes in seasonal home improvement projects, meaning spring and summer are the best seasons to add value to your home through backyard development.
If you're looking to develop your exteriors into a homeowner's dream paradise, check out these ideas that will no doubt make your home the envy of the neighborhood.
Foundation
To begin the transformation of your backyard into your own private Shangrila, understand that you have to build from the ground up. This means that creating a foundation for whatever you trying to build in your backyard is more important than whatever structure you're planning to build over it.
One of the most important things to do when settling a foundation is making sure the ground underneath is perfectly leveled. Once this is done, you can start building or laying out material. The most common layout material for backyard projects are flagstone or brick, both of which create steady surfaces for outdoor furniture or dining areas.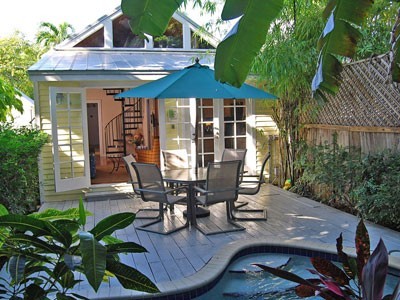 Decks
If you're not into stone flooring, why not mix it up with wood? One of the most popular home development projects in the past few years has been decks. Decks are usually characterized by raised surfaces of wood that can serve as dining areas, lounging areas and backyard cooking outposts.
The great thing about building a deck for your backyard is that it not only blends with the exterior of your home, but can be customizable as well and available in different kinds of wood, finishes and styles. Be sure to use a preventative termite treatment when building large, wooden structures to keep pests from destroying the wood.
Gazebos
Gazebos are large pavilion structures that are often freestanding, roofed and open at all sides, providing shade or a place to rest. In the past, you may have seen them in parks or other public areas; now, these interesting structures are appearing by the dozens in the backyards of proud homeowners!
Building a gazebo from scratch can be a bit difficult and could cost you an arm and a leg if you end up hiring a contractor. Since gazebos are usually stand alone structures, you'd need to set up a separate foundation and build from there. Luckily, there are cheaper alternatives!
Instead of building a wooden gazebo, why not buy a removable iron gazebo or iron structure. These types of gazebos are easily installed and a lot cheaper than building a wooden one from scratch. Best of all, you can decorate these gazebos with curtains, lanterns or garden accessories. These easy to mount structures can be placed anywhere in your backyard, on your deck, stony ground layout or even your garden.
Remember that when dealing with major construction in your property through a contractor, make sure you get quotes from at least three. Also, don't forget to verify whether they're licensed or not.
There has never been a better season to work on your backyard. This way, you'll be able to enjoy your private, backyard paradise during all four seasons.