If you are considering landscaping your garden, you have probably been thinking about how you will move from area to area. Previously, you may have been okay walking over your wet lawn in your insulated rubber boots, but now a change is called for. You are also probably a little bit bored with your old paving slab path that runs straight from your back door to the rear of the garden. When designing your garden it is worthwhile trying to use your garden path as a feature, and as with all features, the material you chose will be vital. Here are a few suggestions that you could use for your new path that will add functionality as well as style.
Chippings
Chippings are a great way to liven up a boring path. With the minimum of work, a chipping path can be laid between some raised borders, bringing a fresh feel to the garden. Your chippings will add a bit more colour to the garden, and they are the easiest way to lay a path over rough, uneven ground. Chippings are available in many colours, and finishes at places like http://www.easypave.com; so you will always find something that suits you.
Paving
You may be ripping out an old paved path, but that doesn't mean you can't lay a new one. Paved paths can be a fantastic feature when thought out properly, and unusual runs and shaped stones can add some beautiful detail. Like chippings, colours and shapes can be found for any situation, and most stones can now be easily cleaned with a pressure washer, so they will last for years.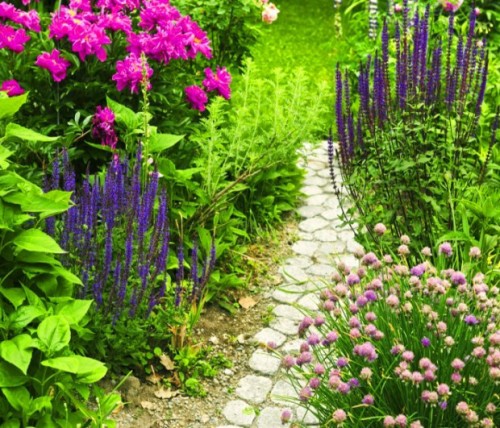 Wooden Decking
People seem to build decking areas at the drop of a hat, and it was surely a natural progression to have decking paths running from the decking patio to the decked barbeque area; as well as everywhere else in your garden. You will need to treat the wood properly, but if you do, decking can last a long time as long as you maintain it properly.
Sleepers
Some people think that raised decking paths look cumbersome in a garden, but if you like wood there is another choice. Old railway sleepers (or sleepers made to look old) can add a lot of charm and character to a garden, bringing with them a rustic feel even in city gardens. Digging these into the garden when it is being landscaped will give you an unusual path that is also functional. The only drawback with sleepers is that there is not usually a border to the path, and plants and grass will start to creep across them. This could make them slippery in the wet, so make sure they are treated and washed down properly and those problems will disappear
Stepping Stones
Along the same lines as the sleepers, you can embed some feature paving into your lawn to use as stepping stones. This minimalist approach is favoured by many gardeners, and the stones can be chosen for effect or practicality. Spacing your stones is often the biggest problem with stepping stones, as if you get it wrong, you can find yourself hopscotching up the garden path or leaping from stone to stone in the winter.
Your path will need to be fit for use, but that doesn't mean it has to be boring and lifeless. In fact, using your path to add life into your garden is a great idea.