How many of us eat on the sofa or in front of the TV everyday? Eat in a proper way, sitting at the table, is very important to us. Plus, dressing up your kitchen or living room table, actually almost important as your food – it makes your daily meals even more worthwhile and special. A significant moment to take care of yourself during the day.
To be honest, most of the times, our meal breaks are fast because of the job, the school or the many commitments of every day life, therefore having the time to dress up the table is a kind of mirage. Precisely for this reason, table mats are not only an essential components of any dining room but also a quick way to prepare the right environment for yours and your family meals. In fact, many scientific researches prove that eat in a healthy, nice and cozy environment is essential for our digestion and help us in assimilating foods.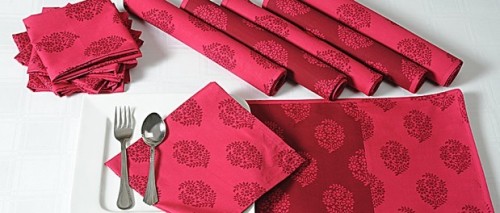 So, why don't try to take care also of this aspect of our life? Is a good point of view, right? But, what kind of tablecloths should you use? This is the best question and actually a good opportunity to go wild!
Home Fashion shops are always plenty of place mats matched by coasters and napkins – portable, made by different materials (cork, plastic, vinyl, leather, wood cloth) or even printed with artistic or colorful drawing for kids… you will always be spoiled of choice! But, today, we'd like to suggest you the cloth table mats kinds, for example those of Borgo delle Tovaglie home furnishing textiles, one of the best known Italian companies in the panorama of furnishing and decoration.
So, why precisely a cloth place mat? Good question!
First of all, cloth place mats have a long-lasting life. Indeed, you can easily fix your table mats when broken and if they are made by strong and high-quality materials, you will wash your table mats every time you want. Besides, if you need to protect a really expansive table, no amount of any sort of place mats will do it completely but actually a tablecloth over them will help you with this goal. Plus, have you ever considered the importance of feeling? The surface and especially the material on which we rest is very important, so don't waste your money on something cold and hard, get a cloth table mat to add more padding and get a better looking. Finally, the most important thing, a cloth and possibly handmade place mat is surely more eco-friendly and natural-familiar style than a vinyl or plastic one.
Summarizing: stay traditional, enjoy the natural feeling and choose a soft and good-looking table mat!