You would think that purchasing furniture for a conservatory would be the same as furnishing any other room in the house.
But as well as having to consider the usual must have items for your conservatory, picking the perfect furniture can often be the most difficult task.
There is often a misconception you can choose any furniture for this room, however not giving it the proper consideration can leave many people frustrated and out of pocket, as the furniture wears and leaves much to be desired years down the line.
With the increase of natural sunlight and temperature in a conservatory, there are far more elements to consider when you've got to find the perfect furniture.
Longevity is important, and as a conservatory is often a room for entertaining guests, you also want it to still look the part years after its purchase date.
Pick your furniture well and it will be an investment you only have to do once.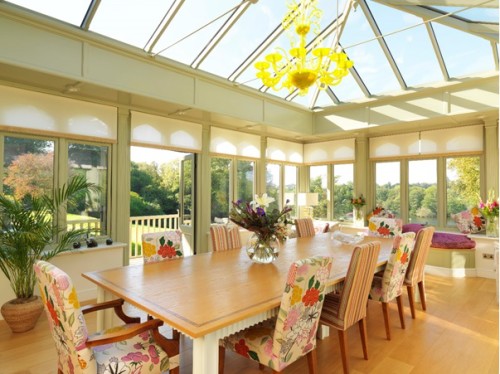 Image Source
Wood
If you're looking to turn your conservatory into an almost al-fresco dining area, than wood is often the most durable for such an occasion.
Avoid dark wood as best you can, and always opt for lighter wood that can help to keep the light bouncing around the room.
Depending on the finish of the wood, it can fade over time, so ensure that it's well polished before setting it out to sit for hours in the intense sunlight.
Light wood will also help to give the conservatory a better feeling of space.
Whilst dark wood can make a room feel quite cluttered, a light wood such as pine, can do the opposite and make a room feel more open.
Always take along your room measurements to the furniture store so that you can set everything out, and choose pieces that will not take up all of the new space you've just had created.
Bamboo
If you're conscious of how eco-friendly and sustainable your furniture is going to be, a growing trend for green conservatory furniture, is the beautiful bamboo.
As strong as wood, but with a more unique look, Bamboo can help you bring more of Mother Nature's beauty into your home and give it that earthy feel.
You can encourage this theme by adding bamboo plants into the room, and increasing the amount of greenery you display. This is a refreshing way of bringing the outdoors in, and making a peaceful space for relaxation.
Fabric
Many people choose a conservatory as an extension to their existing family room, so it can often be a place to sit with friends and family, and enjoy the weather without having to be outside.
Therefore sofas and armchairs can be the most popular pieces of furniture for a conservatory, providing complete comfort.
It's essential that when you choose the fabric for these soft furnishings that you understand the environment it is going to be living in.
With increased temperatures, constant sunlight, and no doubt a popular room during the summer months, it's ideal to choose fabric such as synthetic rattan or muslin which are incredibly durable and UV resistant.
If you long for colour, avoid purchasing bright furniture as this will only fade over time, being slowly bleached by the constant sunshine.
Instead choose neutral fabric shades and add infusions of colour with cushions that are more affordable to replace.
Popular fabric patterns for furniture include florals or nautical stripes, so if you really long to have some fun furniture work these designs into the overall theme of the room.
When you've invested heavily in extending your home, it's only necessary that you get the furniture perfect so that you can enjoy your new room without any expensive issues.
Always consider the rooms and the purpose you wish it to serve and it will ensure your room is set-up for a long life.